'Heroes Reborn's Zachary Levi and Masi Oka Share the Superpowers They Want (VIDEO)
https://player.waywire.com/?id=8F5J1T2TH0FNS5GJ
Heroes Reborn picks up five years after the original Heroes world, during the aftermath of an attack in Odessa, Texas that's blamed on people with superpowers.
In the video above, two of the stars—Zachary Levi (Chuck) and Masi Oka (Heroes, Hawaii Five-0)—preview the new 13-episode series (which will have a beginning, middle, and an end) and their characters. Levi's character, Luke Collins, is personally affected by the tragedy, which sets him down a path of "eliminating people with abilities." As for returning fan fave Hiro Nakamura, Oka deadpans that his character is "more mature…he grew a pony tail and gained some weight."
RELATED: Will the Heroes World Survive an Epic Evolutionary War? | Meet Old and New Characters
When asked what superpowers they'll love to have in real life, Oka revealed, "The absorbing powers. You can just absorb anything… You can do whatever you want." As for Levi, who gives a funny and detailed answer, "I think teleportation would probably be it… I can constantly teleport myself up in the air and do some really fun free-falling with one of those cool squirrel suits."
The show will kick off with a 2-hour premiere next month.
RELATED: Meet the Heroes Reborn Cast | Watch the Heroes Trailer
Heroes Reborn, Series premiere, Thursday, September 23, 8/7c, NBC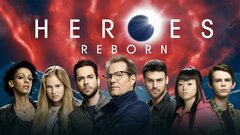 Powered by