Shemar Moore Brings the Heat to an Updated, Slam-Bang Action-Forward 'S.W.A.T.'
"Slow" and "safe" aren't words normally associated with real-life police Special Weapons and Tacticals (S.W.A.T.) teams. So why should a TV series about a contemporary Los Angeles S.W.A.T. unit be any different? This reimagining of the hit 1975 drama and its 2003 film adaptation kicks right off with big action and even some controversy.
Criminal Minds vet Shemar Moore stars as S.W.A.T. sergeant Daniel "Hondo" Harrelson. This Hondo is nothing like his gruff, tough-talking predecessors, played by Steve Forrest on TV and Samuel L. Jackson in the film. Born and bred in the city, Hondo understands its people and its streets. What he's struggling to get is the widening rift between L.A.'s minorities and the police. "He's African-American and he's a cop," Moore says. "He's caught in the middle, trying to bridge this gap. He, and by extension the show, sees both sides. That's different." And grounded in reality. "I grew up in Kansas City, Kansas. One of our neighbors, a 12-year-old, was killed by the police," says executive producer Aaron Rahsaan Thomas (Sleepy Hollow). "But another neighbor was a cop, and we always got along well. I wanted to embody that dilemma in a character—and S.W.A.T. seemed the perfect world to do that."
When the pilot begins, Hondo and his colleagues are in pursuit of a group of skilled (and very fit) bank robbers. In the confusion, their captain, Buck (Louis Ferreira), shoots an innocent black teenager walking home from the supermarket. The LAPD big dogs assume they can quell the public outcry by promoting Hondo to team leader. The sergeant isn't happy, but he is up for the job. Somebody's got to catch those bank thieves! And now there's a sniper picking off Angelenos in response to the LAPD's handling of Buck's mistake.
That's where the action comes in. The Fast and the Furious director Justin Lin, who's also an executive producer on the series, helmed the pilot and it's, well, fast and furious. Think: motorcycle chases, running crowds, characters jumping over objects that Michael Jordan couldn't clear. The final confrontation between the cops and robbers features driving stunts, gunplay, pyrotechnics, acrobatics and lots of blood—all shot in the middle of downtown Los Angeles. "That scene took extensive planning," says executive producer Shawn Ryan (The Shield), "but to Justin and our stunt people's credit, we pulled it off even better than we had dreamed."
There's plenty more to come: In Episode 2, Hondo will save the day while hanging out of a helicopter. The actor, whose character on Criminal Minds was beaten up, shot at and set on fire, had never experienced anything like it. "To be strapped onto the outside of a helicopter, acting as Hondo and taking sniper shots at a bad guy?" he says. "It was the biggest thrill of my life!"
S.W.A.T., Premieres Nov. 2, 10/9c, CBS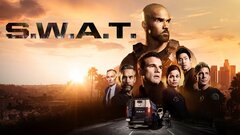 Powered by