'Timeless': Shawn Ryan and Eric Kripke Team for Time-Travel Adventure
Who wouldn't want the chance to go back in time to prevent a devastating event, whether it be the historic Hindenburg disaster or a personal one like a family member's death? "People are intrigued by the idea of trying to fix mistakes and make things different," says Shawn Ryan (The Shield), who, along with Eric Kripke (Supernatural), is creator and executive producer of Timeless, NBC's new time-traveling drama.
The story opens with a mismatched trio dispatched by Homeland Security to board a time machine and stop criminal Garcia Flynn (Goran Visnjic), who has stolen his own time-jumper and is disrupting iconic moments in U.S. history. Their first stop: New Jersey's Lakehurst Naval Air Station, on May 6, 1937, where they try to thwart Flynn from messing with the Hindenburg crash. One major glitch: the butterfly effect. "How do they stop Flynn from decimating history without making their own small alterations of the past that will also affect the present?" Ryan says.
The ragtag team is led by Lucy Preston (Abigail Spencer), a history professor who's been recruited for her in-depth knowledge of various time periods—and is more than a little nonplussed when she has "to hop into this metallic contraption and chase down a criminal to 1937," says Ryan. "She's not someone used to these life-and-death stakes. In many ways, Lucy is the audience surrogate for us." That "real-world" character is just what Spencer was hoping for. "I told Eric and Shawn from the outset that I didn't want to play a hero. My favorite parts of the show are about humans who are ill-equipped to overcome the epic situations that are thrown at them."
RELATED: Critic's Notebook: NBC Takes Big Swings for Fall With This is Us, Timeless and The Good Place
Joining Lucy on her mission are Wyatt Logan (Matt Lanter), a courageous and sometimes reckless Delta Force fighter, and scientist/pilot Rufus Carlin (Malcolm Barrett). Besides his official orders, Wyatt has a very personal goal: to change past events and try to prevent his wife's death.
Rufus, meanwhile, has his own challenge. Even though he helped invent the time machine, the self-described nerd would just as soon stay home. "I am black. There's literally no place in American history that will be awesome for me," he sagely puts it in the pilot.
As for Flynn, we'll quickly learn that he may not be the monster the officials portray him as. "A former NSA officer who saw something he shouldn't have, Flynn sees himself as a patriot," Visnjic says. "He tells Lucy he's not fighting against America but against an evil organization, but nobody believes him." That powerful shadow organization, known as the Rittenhouse Group, is "at the heart of the show's mystery," Ryan teases. "What it is and how Flynn and our heroes are wrapped up with Rittenhouse will eventually become clear."
RELATED: NBC Orders Time Travel Drama Timeless From Shawn Ryan and Eric Kripke
But Timeless won't get bogged down in mythology or be too much of a downer (a lot of America's iconic events are tinged with tragedy, after all), vows the producer. "We don't want it to be an overly complicated puzzle. It will be fun—but we'll definitely sneak in some questions about larger issues," he says. "For instance, having a woman leading this team and an African-American have a prominent part on it makes you look at history a bit differently."
And there's a lot of history to see. The trio's visits will include Washington, D.C., on the eve of Abraham Lincoln's assassination, Las Vegas during the Rat Pack era and the French and Indian War. "Re-creating [these time periods] is really, really hard," Ryan says. "For the episode about President Lincoln's assassination, we literally built a Ford's Theatre, and then when filming was over, we tore it down, repurposing it in the next set. That's kind of insane."
Above all, says Kripke, the show is intended to be entertaining. "People are going to be intellectually challenged by a lot of the history that we present, but what we are at heart is a big, fun, sweeping, romantic, epic historical adventure."
Timeless, Series Premiere, Monday, October 3, 10/9c, NBC.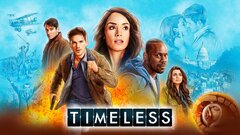 Powered by