5 Questions With Ray Romano of Epix's 'Get Shorty'
Veteran actor/comedian Ray Romano stars as washed-up Hollywood producer Rick Moreweather in the series adaptation of Elmore Leonard's 1990 novel Get Shorty (Sundays on Epix). The series follows Rick and mob hitman Miles (Chris O'Dowd) as they embark on an adventure to make a movie by any means necessary.
Romano says that Get Shorty's darkly funny drama fit right in his wheelhouse. "That's kind of what I've been doing ever since Everybody Loves Raymond," Romano says. "I'm drawn to a little bit more of this human drama stuff. But, of course, I love doing comedy also, so the mix is good. That's what this is. This show has both of them.
See Also
Chris O'Dowd and Ray Romano shine in a new series version of Elmore Leonard's darkly funny Hollywood satire
"I've canceled three of the last shows I've been on, so not to scare anybody," Romano adds. "I did Men of a Certain Age, it got canceled. I did Parenthood and then I did Vinyl." Romano took a break from killing TV shows to answer our 5 Questions.
Can you tell us about a time you were starstruck?
I'm a big golfer. I was in Vegas performing, and I crossed paths with the opening act as I was going out. And I wish he hadn't said this. He goes, "Phil Mickelson's in the front row." For one hour, I had to perform for Phil. But then he came backstage, and since then we've golfed twice. I was like a giddy schoolgirl with the stud athlete who's taking me out.
What has been your strangest fan encounter?
I was in a movie theater in Malibu, and Adam Sandler happened to be there. We kind of know each other, so we're sitting next to each other. And this was the day after I won the Emmy for Raymond. We leave the movie theater — I don't know what movie it was, but it had a young crowd in there — and they swarm over Adam. They swarm! And I say, "Alright, Adam. I'll see ya." I just walk away, and it's a humble slap in the face. But then one kid comes running over. "Mr. Romano! Mr. Romano! Could you sign this for my grandmother?" And that's all I got out of his bunch.
What's a movie that you can watch over and over again?
Little Miss Sunshine. That's a movie I've seen four or five times. When people come over who haven't seen it, I go, "Oh, you've got to watch this. It's great."
What's your favorite sports team?
The New York Jets. They haven't played in the Super Bowl in over 40 years, but that's my team.
What are three things you must always have in your fridge or pantry?
Hot sauce. I eat hot sauce on a lot of stuff. Benecol, which is a substitute for butter, which I've convinced myself is healthy for you. I put it on everything. I like when they say "may lower cholesterol." May. You can put that on anything, really. Anything may. I like eggs. Eggs are my go-to.
See Also
The Elmore Leonard crime caper (made famous by the 1995 John Travolta film) gets a cable makeover
Get Shorty, Sundays at 10/9c, Epix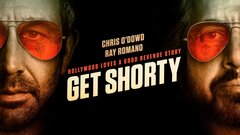 Powered by