Flipping the Script: 'Get Shorty' Brings Ray Romano and Chris O'Dowd Back to TV
It would be easy to jump to conclusions about Get Shorty. Here we go again with another "reimagining" of a timeworn tale, right? But Epix's new dark comedy manages to take familiar material and do the unexpected: actually deliver a series that feels original.
Like Elmore Leonard's classic crime caper novel of the same name—which was adapted into a 1995 feature film—the story centers around a small-time gangster trying to muscle his way into Hollywood. "That's a great bunch of marching orders for us," says executive producer Davey Holmes. "But our incarnation is very different." The show debuts an entirely fresh roster of characters, shifting away from farce toward more grounded territory. Says Holmes, "This will still be fun, but it's going to be less broad and a little darker. To get people to tune in every week, we have to make them believe in this world."
Make that worlds. Get Shorty delights in forcing different kinds of folks into each other's orbit. Behind door No. 1: Miles (Bridesmaids' Chris O'Dowd), a mild-mannered Irishman doing dirty work for a crime family in Pahrump, Nevada. He's on the outs with wife Katie (Lucy Walters), who wants more security for their 12-year-old daughter, Emma, aka Shorty (Carolyn Dodd), and Miles knows he won't be able to provide that if he stays in his current profession. "He is trying to better his life," O'Dowd explains.
Opportunity will strike courtesy of his boss, ruthless mob matriarch Amara (Lidia Porto), when she sends Miles and his cohort Louis (Sean Bridgers)—a devout Mormon, despite his criminal proclivities—on a mission to collect a debt for her in Los Angeles. Over the course of the job, they stumble across a bloody script for a screenplay called The Admiral's Mistress. It turns out Miles is a film buff, and he decides this script could be his ticket to salvation. "He has the idea to use money from Amara to fund the movie and go legit," Holmes says.
How, exactly, is a low-rung thug with zero industry connections gonna pull that off? Enter Rick Moreweather (Ray Romano), a down-on-his-luck producer of direct-to-video schlock. He needs his next payday badly, and when Miles arrives on the scene proposing that they team up, Rick's desperation trumps any reservations that he might have about his potential partners. Besides, he figures he'll be the one calling the shots. "Rick thinks he's dealing with novices, and he's going to show them how it's done," Romano says. "He's not aware at all of how dangerous they are."
The truth surfaces soon enough. As the motley crew of gangsters and showbiz types roll up their sleeves and attempt to bring The Admiral's Mistress to fruition, their disparate universes—and fates—will become increasingly enmeshed. "In every episode, their worlds collide more and they get in deeper," Romano says.
The stakes have the potential to go sky-high—and Holmes confirms that some of the players won't live to see a Season 2: "Not everyone survives." Those who do are likely to find themselves forever changed, with the line between good guys and bad guys blurred beyond repair. Hey, maybe it's not such a far-fetched outcome, considering this particular landscape. "I mean, the ambition in Hollywood is so extraordinarily present," O'Dowd says with a chuckle. "People may look aboveboard, but if you were to give them a push? They'd be capable of anything."
Get Shorty, Season Premiere, Sunday Aug. 13, 10/9c, Epix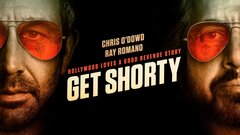 Powered by