Jimmy Fallon to Stick with NBC Through At Least 2021; NBC Developing New Tina Fey, Mike Schur Comedies
Jimmy Fallon will continue his late-night slow jam through 2021.
NBC announced Thursday that it had extended Fallon's contract to host The Tonight Show Starring Jimmy Fallon for six more years. "Jimmy is the best that there is," NBC Entertainment Chairman Bob Greenblatt told reporters at the Television Critics Association press tour on Thursday. "How elated are we that he's going to be around for a long time in the role he was born to play."
Greenblatt also said he was "pleased" with the format change on Late Night with Seth Meyers this week, in which Meyers now opens the show behind the desk (à la Weekend Update) rather than perform a stand-up monologue. "This is his strong suit," Meyers said. "We're happy to see press and viewers react so positively. Heading into a crazy election year, this gives Seth more momentum."
Also at NBC's portion of the press tour:
— Ne-Yo (as the Tin Man), Elijah Kelley (as the Scarecrow) and Common (as the non singing gatekeeper to Oz) have joined the cast of NBC's holiday music event The Wiz Live.
— Parks and Recreation and Brooklyn Nine-Nine co-creator Mike Schur is developing a new comedy, A Good Place, for NBC. The show has been given a 13-episode order.
"He came in recently and pitched the entire first season, and we loved it so much we ordered it to production," said NBC Entertainment president Jennifer Salke. "Mike prefers to keep details under wraps while he meets actors and actresses, but I can tell you that the man who brought Amy Poehler to primetime is bringing us another funny, strong and particularly complicated female character — yes, the lead is a woman — in a comedy like nothing seen before, about a woman wrestling with what it means to be good."
— The 30 Rock and Unbreakable Kimmy Schmidt creative team of Tina Fey and Robert Carlock are developing a new show for NBC from writer Tracey Wigfield. The untitled, slightly autobiographical show is about an up-and-coming millennial woman at cable news network.
— Heroes Reborn will now premiere as a two-hour event on Sept. 24 at 8/7c, pushing the season 3 return of The Blacklist to Oct. 1.
— With Donald Trump no longer a part of Celebrity Apprentice, the reality show will not return this season, but will be back with a new host in the 2016-2017 TV season. "We've been overwhelmed by exciting people" interested in hosting, Greenblatt said, "and I've heard some names bandied about." But there is no one in place yet.
Greenblatt dismissed rumors that George Lopez had been in talks to join the show. Is there a chance, should Trump end his presidential campaign, that he returns? "Absolutely not," he said.
That doesn't mean Trump won't ever show up on NBC primetime again. "At the moment we're separated," Greenblatt said.
— Speaking of Trump, Greenblatt said NBC is close to finalizing an exit from its stake in the Miss Universe/Miss USA organization, ending its partnership with the presidential candidate. According to Greenblatt, NBC won't be selling the stake, but rather dissolving the partnership and walking away.
— Rihanna will appear on The Voice this fall as a key adviser to the show's coaches.
— Greenblatt said he doesn't regret moving Unbreakable Kimmy Schmidt, which his Universal TV label produces, from NBC to Netflix, despite its Emmy nomination haul. "We're whores for Emmy nominations like anybody else," he said. "We would love to be able to claim those nominations for NBC. But we thought long and hard, what's best way to launch this show? To know Tina Fey is to love her, and we wanted to put the show in the best place for success. The Netflix move was going to be that."
— Greenblatt reiterated his commitment to live TV, noting Undateable's upcoming switch to a live format, in addition to its live events, Saturday Night Live and live episodes of The Voice and America's Got Talent. Next up, he hopes to develop a live drama.
More TCA Coverage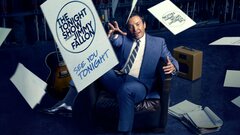 Powered by