Jay Leno on His TV Return, Trump Jokes and Why He Didn't Do Dave
Jay Leno is back.
The former Tonight Show with Jay Leno host returns to TV with CNBC's Jay Leno's Garage, which premieres Oct. 7 at 10/9c on CNBC.
We caught up with Leno at NBC's Television Critics Association press tour party, and he explained how he's saving his Donald Trump jokes for Jimmy Fallon, why he won't do a stand-up TV special, why he didn't reunite with David Letterman and his thoughts on today's late night landscape (including his beef with Jimmy Kimmel).
You have some Trump jokes?
Yeah, I'd like to do them on Jimmy. When I go on The Tonight Show I like to do stand-up. I did the last time. Because I'm a stand-up, I don't just sit on the couch. I always hated when guests would come on and didn't prepare; they just wanted to talk. You've got to have something, so I never want to do that to a host.
Do you miss the national platform when something like Trump happens?
Yeah, certainly. To me, the nature of the business has changed. The monologue doesn't have the weight it once had. It's different now. That's where Jimmy is clever. He does the viral videos and music things. That's what it's become. It's not better, it's not worse, it's just different. You only live in the time you live in. For our time, I would do a 12- to 14-minute monologue. But that has changed, and that's OK.
Have you thought about taping any of your stand-up for a special?
I hope not, no. I was talking about this the other day with an investor. I work and my money relaxes. I go out and work, come back with more money and put it in a hammock. That's the way I do it. You do a TV show or an HBO special, and you make a penny a customer. Maybe a tenth of a cent a customer. When you do a live show, you make $10, $20 a customer. Plus, the difference between looking through a window into a nightclub and being in the nightclub is night and day. The number of times people say to me, "Oh, I watched so-and-so's comedy special and I didn't think it was that funny." Well, did you see them live? It's hilarious. The other problem when you view these things on tape, they do an hour, and then they go on the road and do that hour, and people go, "I just heard that thing last night!" I don't want to be greedy. If you want my comedy, I will come to where you are and do it. Let's all sit in a room and put the iPhone away.
You're now freed up to be on the road as much as you want. How much are you on the road these days?
This year, 210 days.
What was the peak when you were still doing the Tonight Show?
About 150.
A lot of fans were hoping to see a Jay Leno and David Letterman reunion on screen before his show ended. What happened?
When I did my last show, I asked Dave to send a 10-second tape. No, they didn't want to do it. All right, so why would I go all the way to New York? It's just quid pro quo. I went to New York and did the Oprah [Super Bowl] commercial for Dave. And that's not anything against Dave; he's just an odd duck. Kind of socially awkward, I don't know. We go back a long time, we have a lot of history. Not bad history. We started out together; I think we both complemented each other when we started out. I didn't know what Dave's attitude would be, so we just didn't do it.
You've got the new show coming, but I'm sure you're asked frequently whether you'd do a monologue show or perhaps a weekly show of some sort.
Lightning doesn't strike twice. People want you to do what you always did. With the Tonight Show, the nice thing about doing it for 22 years was, everything was paid for. To recreate that show starting from scratch would cost way too much money. What's your alternative? You put on a cheaper version of that show. Arsenio Hall is a good friend of mine. When he came back, they didn't give him the tools he needed. He wasn't even allowed to play recognizable songs because they didn't want to play music rights. There was no money for that. It wasn't Arsenio's fault. He worked his ass off, but there was no budget.
Do you ever watch any of the new shows?
I like Seth, I like Jimmy. I think Colbert will be really good. He's really clever. I don't know him well. The right likes to paint him as a tool of the left, but the man teaches Sunday School. He's a pretty conservative guy from what I can see. But he's a truly nice guy and decent human being. The most element you can have in doing a late night show is kindness. Because the show makes you arrogant. I think that's Jimmy Kimmel's problem. I think he's a talented guy, I think he's funny. But he has a mean streak, and it comes across. He does this thing where he takes Halloween candy from kids and the kids cry. What am I missing here? It is funny I guess, but it's mean-based. I think that's why he's not higher in the ratings.
Do you miss about the old show?
It's interesting, the thing about doing the show, no matter what you're doing that day, you still have to allow for four to five hours to write the monologue that night. So just to have four to five hours again. I never watched TV between 8 and midnight.
What are you watching now?
I just watched True Detective, I like Ray Donovan, there's a lot of good stuff out there. I watch TV now and like Breaking Bad; you've got 50 hours of character development. I watched Sons of Anarchy and that's one of the best female-written character [shows] I've ever seen. It's Lady MacBeth on a motorcycle. It's so smart and so well-written, and I'm surprised it didn't get an Emmy. TV is getting smarter. This is Playhouse 90 and Noel Coward Presents and all those things from the 50s and 60s. If you're willing to look for it, it's there.
More TCA Coverage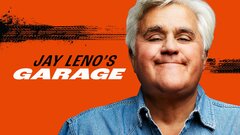 Powered by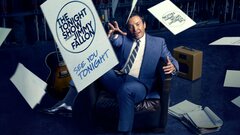 Powered by