'Graceland' Returns With a Top-Secret Twist
Spoiler alert: Mike Warren is back!
Graceland's shocking Season 2 finale ended with the overeager FBI agent (Aaron Tveit) flatlining in a hospital bed after being asphyxiated by crooked LAPD cop Sid Markham (Carmine Giovinazzo). Though the specifics of Mike's return are top secret, Tveit offered a few teasers to tide us over until tonight's twisty premiere.
How did you find out Mike was going to "die"?
When I think about it now, it's funny. We had already started shooting the last episode of Season 2, and the change came down. [Creator] Jeff Eastin called me and pitched me this idea—they wanted a big cliffhanger. And he was selling it so well, I was like, "Yeah! Oh, that's awesome, man. That's going to be so cool!" And then I got off the phone and went, "Wait a minute, are they killing me off the show?" [Laughs] But Jeff and I have such a great relationship, I knew it was going to be awesome and that they weren't getting rid of me for good.
A near-death experience can change a guy.
That's what's so exciting about this story. This is a different guy. You meet Mike right out of the FBI [in Season 1], and he's got all the smarts in the world, but no experience. Then he gains some experience in the second season and goes on a King Lear power trip. Now he will have to reassess the way he does things.
His relationship with fellow FBI agent Briggs (Daniel Sunjata) has always been very volatile, but the betrayal of agent and former flame Paige (Serinda Swan) must have really hurt. Where do they go from here?
By the end of last season, everyone had made mistakes. And everyone's going to be accountable for those mistakes now. Paige, of course, is going to have to be really accountable for her actions. But also, in the second season, the house got sort of spread out and all the agents were out doing their own thing. Season 3 brings everyone back together, and the story becomes much more about the relationships within the team and all the drama and action that comes from that.
Graceland, Season premiere, 10/9c, USA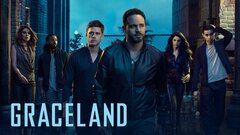 Powered by