Community Finale: Dan Harmon on Jeff and Annie, Movie Possibilities, and Profanity
Six seasons are in the can. Now, what about "…and a movie"?
Community ended its first (and perhaps only) full season on Yahoo Screen this Tuesday with an episode that could have very well served as a series finale as well. Abed (Danny Pudi) is off to Hollywood to explore his dreams, working on a TV show (for Fox!) while Annie (Alison Brie) is heading to Washington, where she's landed an internship with the FBI.
Of the show's original characters, left behind at Greendale are just Britta (Gillian Jacobs), Chang (Ken Jeong), Dean Pelton (Jim Rash) and Jeff (Joel McHale), who is taking the group's slow dissolution the hardest. "I want to be 25, and heading out into the world," he confesses to Annie. But the truth is, the group was destined to eventually break apart and move on–just as the show's stars are doing in real life.
Jacobs is in the middle of shooting the Judd Apatow comedy Love for Netflix. Jeong stars in the new ABC sitcom Dr. Ken. Pudi recently shot a pilot for NBC. McHale has E!'s The Soup, is producing projects and just signed on to guest star on Fox's The X-Files reboot. And so on.
Yahoo is still mulling its future Community options, including the possibility of a seventh season or a movie. But creator/executive producer Dan Harmon says a movie may be more likely, given the show's busy cast. Harmon spoke with us on Tuesday night before attending an Emmy panel for the show sponsored by the Los Angeles Times. Here's his take on the season finale, his cameo at the end, and where the show might go from here.
That was a rather emotional finale, and true to Community form, very meta. What were you hoping to accomplish with the season ender?
It was a meta explosion. I never know what it is I want to say, I just know of areas I want to explore. Community was the show that commented on itself the whole time, and for the last episode of Season 6 the goal isn't to lure new viewers, so might as well really lean into this thing and talk about what's on everybody's mind, since the conversation about Community has always been more intense than the conversation about the characters. So we had the characters talk about the future of the show as if it were a show. Other than that, it had a pretty traditional structure: It was an excuse to explore possibilities, only to realize there's absolutely no way we can control anything. Also if we want these characters to continue to grow, they're missing a huge part of their life right now. Annie is an exceptional person. I want Annie to taste the world.
Jeff Winger had the most idealistic dream of everyone staying at Greendale as faculty colleagues. That actually would be a device you could use for another season–but that would mean that none of these characters get to really grow or ever leave.
I do agree with Winger that that show makes more sense than the one I originally pitched, because then they all have a reason to be together. They would have a reason to have meetings, and then it would be Boston Public set at Greendale.
Annie and Abed leave the group at the end of the episode to pursue their dreams. Why them?
I think Britta's future can still be found at Greendale and I don't think there's anything sad about that. She lived in New York. She was the wild horse that galloped around and then came slinking back to community college. So she has sown her oats and still needs to grow up, just like Jeff does. In the original idea, there were three characters – Abed, Annie and Troy – who represented the younger stories you might encounter at a community college. Those are stories about transitions. Other stories can be about falls from grace. They were wayward youth. On the off chance that it's the last image of the show that we ever see, I felt more comfortable with the image of Abed and Annie going off to an airport, where they might go anywhere or do anything. It made me feel better about the eternity of the show.
Let's talk about the Annie and Winger relationship and that kiss. There's still a big age gap between the two, but on an emotional scale they're on the same level.
Yeah, with each passing year it gets a little less creepy. I did just marry a 29 year old at 42. And in real life, Allison Brie is 43. No. I just wanted her to read that and freak out. I have no idea how old Allison is. Age aside, it's more an issue of how much life experience you have had. Do we really believe in our heart of hearts that the current version of Jeff Winger and the current version of Annie Edison would be happily ever after if they ever got together? Or is it more likely their souls are intermingled and there is such a thing as true love that is genuinely star crossed? This person hasn't lived their life yet. I'm comfortable with the realization that he's genuinely in love with her, but that's a separate thing from whether that's actually good for her.
This episode has the feel of a series finale, but you had to leave the door open in the event of a seventh season or a movie. Are you leaning toward the movie option?
We've exploded into these successful shrapnel. Dr. Ken is now Dr. Ken. Allison has probably got her eye on movies. Gillian is working on a Netflix show. If there was some magical way of guaranteeing that everyone could come back all at once, let's do it. But it would be a lot easier to put together a movie project and get them all on board than to say, "Let's give it one more season!"
You made a point of not changing Community's language or content this season, even though you were no longer confined by broadcast standards. But you ended up with two "fucks" in the finale!
I did! It was kind of unintentional. That one that Jim [Rash, as Dean Pelton] does is adlibbed. As soon as he said it, the entire cast started laughing, but I edited around it. As for Britta's I should have bleeped it… it's weird to have two "fucks" on that one.
The show, especially the Chang and Dean Pelton characters, was more grounded this season.
I think it was more emotionally grounded, but structurally, ironically everything was a lot looser. I think I've become a victim of my own story structure. The lack of a clock at Yahoo, a really strict one, allowed for something I think the show needed in order for it to continue to feel healthy. A certain randomness. The stories don't resolve the way you always think they might. There are these strange slingshots around the sun. The wedding episode ends randomly with Chang being the hero. I was a little more British this year.
If I buy a Honda CR-V [which played a major role in Season 6, particularly in the episode "Advanced Safety Features"] and drop your name, do you get a cut?
I'm still waiting for my jacket. I told them I wanted the Honda jacket that Jim wears in the episode.
The last episode ends with a faux Community board game advertisement, which ends up diving into your own stream of consciousness. You even did the voice over. Is that a snapshot of how you were feeling as the season ended?
Well, I certainly did that voice over just two days ago. Everybody had to talk me into doing it. I kept saying, "It's not funny if it's me." Then I tried it. That is my throat catching in a genuine way. But I don't know, I want to wait and see. I've never had a relationship this long. I've never done anything for six years, except drink.
READ MORE: How to watch on Yahoo Screen, behind the scenes of Season 6, and the full story of how the series went from broadcast to streaming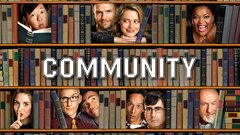 Powered by