Comic-Con 2017: ABC Releases 'Marvel's Inhumans' Trailer
On Thursday at San Diego Comic-Con, ABC released the latest trailer for its upcoming fall series Marvel's Inhumans. An initial trailer for the series had been released last month. Check it out here:
https://www.youtube.com/watch?v=XbN3vd9i8E4
If you're having trouble keeping the increasing number of Marvel Comics-based series across various networks straight, this one is a self-described "family drama" that follows Black Bolt (Anson Mount), the enigmatic, commanding King of the Inhumans, with a voice so powerful that the slightest whisper from him can destroy a city. After the Royal Family of Inhumans is splintered by a military coup, they barely escape to Hawaii. They must find a way to reunite with each other and return to their home before their way of life is destroyed forever.
When a first look photo of the series' cast was released in May, there were some grumblings among fans, who weren't too impressed with the costuming. Whether the ensuing trailers have helped assuage fans enough to make Inhumans will be seen when the series debuts with a two-hour premiere Sept. 29 on ABC.
Along with Mount, the series stars Iwan Rheon as Maximus, Serinda Swan as Medusa, Eme Ikwuakor as Gorgon, Isabelle Cornish as Crystal, Ken Leung as Karnak, Ellen Woglom as "an undisclosed character," Sonya Balmores as Auran and Mike Moh as Triton.
Marvel's Inhumans, Series Premiere Friday, Sept. 29, 8/7c on ABC.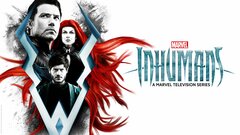 Powered by