FX Orders The Bastard Executioner to Series
We said it was just a matter of when, and we were right: FX has finally ordered Kurt Sutter's The Bastard Executioner to series. Even better, for those who are still in mourning over Sutter's Sons of Anarchy ending its run last December, TBX will premiere sometime this fall.
"From his important contributions to The Shield to his epic run on Sons of Anarchy, Kurt has been one of FX's most visionary artists, and we are proud to get him back on the air so soon after the unquestionable success of Sons," FX Networks CEO John Landgraf said in announcing the pickup. He did not add: "We would really like another show that beats the hell out of broadcast series in the ratings." For his part, Sutter said, "I love history. I love theology. I love blood," in case you were worried about futures in the fake blood market.
The series follows one of King Edward I's former knights as he tries to make a peaceful life in Wales but finds himself dragged back into a life of ax-wielding violence. Sutter and executive producer Paris Barclay shot the pilot in Real, Actual Wales, and the rest of the series will shoot there too, for authenticity's sake. (And hey, maybe we'll get a Doctor Who crossover.) More details on the cast, which, duh, includes Sutter himself, can be found here in our previous piece.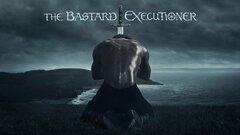 Powered by