FX's The Bastard Executioner Sets Its Cast
FX has set the cast for Sons of Anarchy creator Kurt Sutter's medieval butt-kicker The Bastard Executioner, about a former knight who retires from King Edward I's service and is dragged back into a life of violence in 14th-century Wales.
Aside from the Sons of Anarchy additions of Katey Sagal as witch Annora of the Alders and Sutter himself as Annora's companion The Dark Mute, there's True Blood's Stephen Moyer as the chancellor/drinking buddy of local lord Ventris and, keeping things in the FX family, The Americans' Matthew Rhys (who is actually Welsh). Rhys will guest star as the leader of a band of Welsh rebels, but don't worry, Americans fans, the part won't have any impact on his Americans role. The four join newcomer Lee Jones as the titular Executioner, actually named Wilkin Brattle, who is "emotionally deep and spiritually tortured." (Naturally.)
The show hasn't yet shot its pilot—filming starts March 19 in Wales—but we'll eat our weight in Glamorgan sausage if FX doesn't officially pick it up to series soon. Really, the only question is: How many episodes until Sutter's "Dark Mute" starts losing body parts?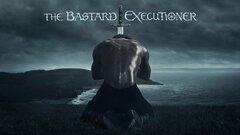 Powered by