12 TV Characters Who Make You Feel Good About Yourself
As much as fans love to cheer on the good-hearted protagonist, it's equally as fun to hate characters who are simply terrible people. Because of their unsympathetic and cruel nature, these characters make the average Joe look like a saint. So if you're ever feeling down about your morality, remind yourself that compared to these twelve characters, you're a good person.
Billy and Julie from Difficult People
Difficult doesn't begin to describe how awful Billy (Billy Eichner) and Julie (Julie Klausner) are. The duo is actually funny but instead of using their comedic talent to progress in their career, they channel their humor into demeaning bitter tweets towards celebrities. They blame others for their lack of success and will attempt anything to be discovered, including re-creating the Ice Bucket Challenge and fleeing a hit-and-run accident to be on time for an audition. Their "get-famous-quick" schemes typically flop and fail, which makes the most illogical business plan seem plausible.
Ilana Wexler from Broad City
Fans love Ilana for her wild propositions and carefree lifestyle, but admittedly, she's a slacker. She's all about doing the least amount of work for the highest reward, like taking advantage of her compliant boss by spending excessively long breaks in the bathroom and never doing any actual work. Her level-headed best friend Abbi (Abbi Jacobson) often becomes involved in Ilana's unorthodox, unnecessarily extensive plans which generally never work out, yet Ilana is always content with the result. Ilana is a fun BFF, but probably one of the most unreliable employees in TV history.
Rick Sanchez from Rick and Morty
At times, Rick (Justin Rolland) shows compassion towards his daughter Beth (Sarah Chalke) and grandson Morty, but for a majority of the show, Rick's general disregard for life, and his alcoholism, define him as a god-awful, insane man. His experiments often lead to interdimensional adventures that cause Morty to participate in rather execrable activities, for example, cleaning up and burying his own bloody burnt corpse. Although Rick and Morty seem to survive every episode, Rick is the last person you'd want to babysit your kids.
Jimmy and Gretchen from You're the Worst
We first meet the "we're not a couple but we spend all our time together" pair outside Jimmy's ex-girlfriend's wedding. To give you a taste of what Jimmy (Chris Geere) and Gretchen (Aya Cash) are like, Jimmy was thrown out of the wedding for spewing insults at the bride and Gretchen left the wedding with a bottle of wine in one hand and a stolen wedding present in the other. Both are equally deplorable and end up sleeping together. Throughout the two seasons, Gretchen uses her snarky cynicism to cover up her severe depression while Jimmy says whatever he wants because he's "telling it as it is." It would be hard to be friends with these two, but hey, they deserve each other.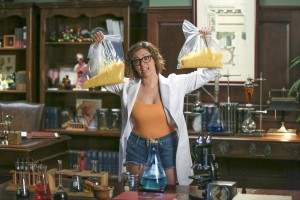 Rebecca Bunch from Crazy Ex-Girlfriend
Rebecca (Rachel Bloom) isn't someone you would initially associate with the others on this list, but her obsessiveness takes the cake for crazy exes. Besides moving across the country for a short-lasted high-school lover, Rebecca makes irrational decisions over and over again despite her good intentions. She wants to be in a good relationship but can't help sabotaging it, evident by her back-and-forth between Josh and Josh's best friend, Greg. Ultimately, fans are rooting for her happy ending, but in the meantime you can reassure yourself that no matter how much you're hung up on an ex, you're not nearly as crazy as Rebecca.
Charlie, Dennis, Dee, Mac and Frank from It's Always Sunny in Philadelphia
The It's Always Sunny gang puts every teenage group of pranksters to shame when it comes to wreaking havoc in the community. These five are dishonest, selfish, manipulative and morally corrupt regarding societal conventions. Any episode is a reassurance that you're a good person since no one in their right mind would dare to stoop so low to attempt one of the gang's ploys. For instance, in "The Gang Goes to a Water Park", Charlie (Charlie Day) and Frank (Danny DeVito) pretend to have AIDS to get to the front of the lines so they can cover all the rides. They end up going down a slide without any water, causing Frank's back to be ripped open and blood oozing everywhere. Park goers flee in fear that Frank's infected blood will spread his AIDS. Whoever your friends are, they're undoubtedly better than this gang of sociopaths.