'Rick and Morty' Season 3 Premiere Date Revealed During Live Show
If you've ever been in college, then you've probably spent time with nerds who consider themselves very funny, but really they're just too effing much. So, imagine those dudes—cause they're always dudes—but imagine them on, like, a ton of Red Bull and their roommate's Adderall. That's pretty much what watching Thursday night's Rick and Morty live stream event was like.
Creators Justin Roiland and Dan Harmon answered questions from host Brandon Johnson. Roiland answered questions about rumors of behind the scenes drama; whether the Meeseeks would be back; and went on a bizarre tangent about Native Americans and Quentin Tarantino in the voices of both Rick and Morty. Meanwhile Harmon typed away on what seemed to be a Rick and Morty script while storyboard artist Erica Hayes doodled—both doodles and script projected on screen for the audience at Burbank's Starburns Industries.
Maybe 20 minutes in, Harmon and Roiland dropped the big news.
"Get ready to roll your eyes," Roiland warned the audience before announcing the premiere date of the show's 10-episode, third season—July 30. "Almost the last day of the month!"
"We took way too long writing it," Harmon admitted, "And now they're drawing it and they're almost done drawing it."
"I can feel the disappointment," Roiland said. After April's random episode drop, it probably was too much to hope that this event would include the premiere of another new episode.
We did get to see the official trailer for Season 3. Which was heavy on scenes from April's one-off episode, but also featured Rick as a pick (Pickle Rick); what looked like some kind of Mad Max: Fury Road spoof; lots of Summer kicking ass; and the tagline "Only a show this smart could be this stupid."
Rick and Morty, Season 3 Premiere, July 30, Cartoon Network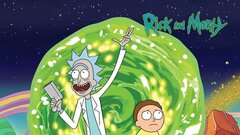 Powered by