Trophies for Everyone! Why There Are So Many Awards Shows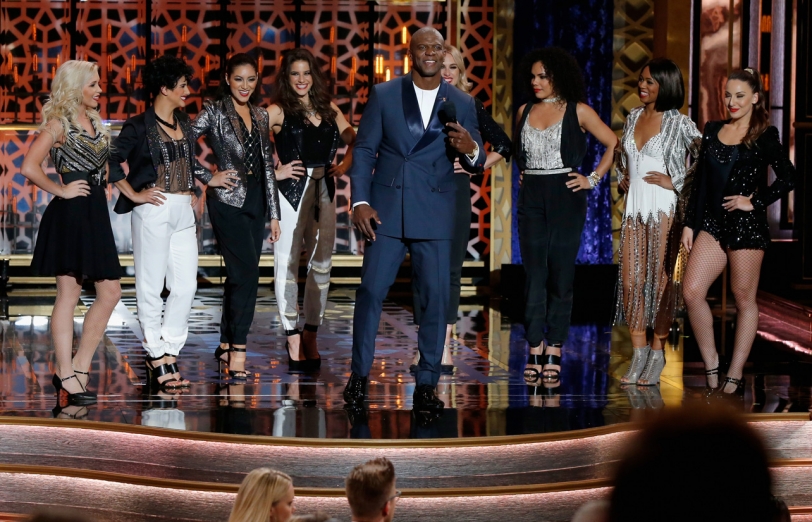 Awards shows are like sports: There's competition, blood-sweat-and-tears (if you think those women's feet aren't bleeding from those heels, you're mistaken), and, most importantly to networks, people who actually watch them live. Which is why there are so many of them. So, so many.
By Sunday night, we'll have endured a week packed with the youth-worshipping MTV Movie Awards, the era-mixing TV Land Awards and the boot-stomping Academy of Country Music Awards.You can see the full list at the bottom of this story, but up here we will say that there are enough competitive awards shows to have one air every week for 35 weeks of the year. (And we're not counting ceremonies where there are no nominees, such as the Kennedy Center Honors.)
Oddly, while it might feel as though every year brings with it a bucket of new (increasingly meaningless) ceremonies, even many of the second-tier ones have been televised for at least 20 years. MTV's VMAs have existed since 1984—predating the MTV Movie Awards by eight years. Still, newcomers like the iHeartRadio Music Awards (2014), the Critics' Choice TV Awards (2014 on The CW, 2015 on A&E) have just made the sheer tonnage more noticeable.
The proliferation does seem like something out of a 30 Rock episode when it comes to country music, whose annual awards roster includes the aforementioned Academy of Country Music Awards on CBS (50 years old); the CMA Awards on ABC (46 years old); the American Country Countdown Awards on Fox (1 year old); and the CMT Music Awards (14 years on CMT). There are, of course, broader events like the Grammys and ABC's American Music Awards, too. But the gangbusters popularity of country music—and the ability to count occasionally twangy pop musicians like Taylor Swift as technical "country" stars—means guaranteed viewers.
Old stalwarts like the Emmys, Grammys, Golden Globes, and Oscars draw the biggest audiences. Given the ratings freefall for other kinds of programming—even reality—one might expect a commensurate slide for the bloated, self-congratulatory nights, but that's just not the case. Sure, the Oscars drew an audience of 48 million in 1995 (the year David Letterman hosted and Forrest Gump beat out Pulp Fiction for Best Picture) and this year's ceremony, which featured host Neil Patrick Harris and a bunch of movies your mom had never heard of, only garnered 37.12 million pairs of eyeballs. But the 2014 telecast, hosted by Ellen DeGeneres? 43.74 million.
Even shows that draw only a fraction of those numbers have value: NBC's iHeartRadio Music Awards on March 30 only had about 5 million viewers, but close to half were in the advertiser-coveted 18-49 demographic and the totals represented a 21 percent increase over the dismally performing, non-NFL occupants of its Sunday night timeslots.
And with the rise of online platforms, it's only a matter of time before they jump in on the trophy distribution, too. YouTube is already trying to make the YouTube Music Awards a thing; with millions of views for its official playlist, they're not actually off to a bad start. So the next time you grumble about yet another show with "Awards" in the title, remember: It's your own fault.
Competitive Televised Awards Shows
Emmys (Rotating: Fox, NBC, CBS)
Daytime Emmys (Pop)
Creative Arts Emmys (FXX, starting in 2015)
Oscars (ABC)
Golden Globes (NBC)
SAG Awards (Turner)
BAFTAs (BBC America)
Grammys (CBS)
Tonys (CBS)
Critics' Choice Movie Awards (A&E)
Critics' Choice TV Awards (A&E)
Independent Spirit Awards (IFC)
MTV Movie Awards (MTV)
MTV VMAs (MTV)
MTVu Woodie Awards (MTVu)
BET Awards (BET)
BET Hip-Hop Awards (BET)
Soul Train Awards (BET)
CMT Music Awards (CMT)
CMA Awards (ABC)
Academy of Country Music Awards (CBS)
American Country Countdown Awards (Fox)
American Music Awards (ABC)
iHeartRadio Music Awards (NBC)
Billboard Music Awards (ABC)
Kids' Choice Awards (Nickelodeon)
Kids' Choice Sports Awards (Nickelodeon)
People's Choice Awards (CBS)
Teen Choice Awards (Fox)
TV Land Awards (TV Land)
Radio Disney Music Awards (Disney Channel)
NewNowNext Awards (Logo)
ESPYs (ESPN)
Young Hollywood Awards (The CW)
Latin Grammys (Univision)