12 Best Acceptance Speeches of the 2023 Awards Season (VIDEO)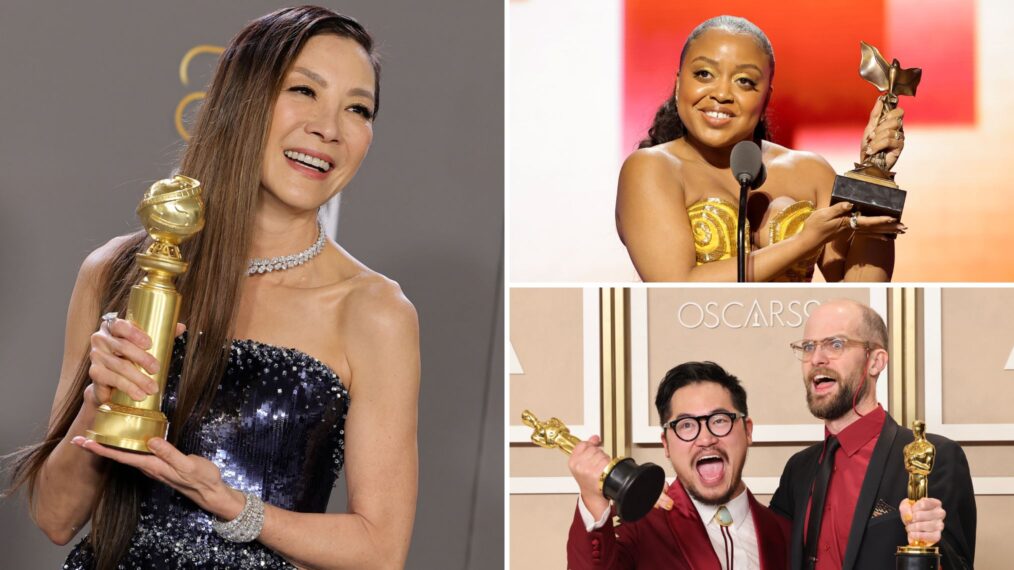 There should probably be an awards show for acceptance speeches, given how much this year's winners moved us with their remarks… and then made us laugh through our tears!
And some of the best speeches this year came from actors who got long-overdue wins late in their careers — think Jennifer Coolidge, Ke Huy Quan, and Brendan Fraser — because filmmakers and TV creators gave them another moment in the spotlight. (Like Lady Gaga so often said in her speeches and interviews, "There can be a hundred people in the room, and 99 don't believe in you, but one does…")
Here, in chronological order, are our picks for the best acceptance speeches from the Oscars, Golden Globes, SAG Awards, Indie Spirit Awards, and Critics Choice Awards.
Jennifer Coolidge at the Golden Globes
Accepting her Supporting Actress in a Limited Series, Anthology Series, or Motion Picture Made for Television trophy for her performance in The White Lotus — and then setting it down because it was too heavy — Coolidge thanked the people who kept her career alive, even after she realized she wasn't going to become "queen of Monaco." And she gave high praise to Mike White, bringing the White Lotus creator to tears.
Michelle Yeoh at the Golden Globes
Michelle Yeoh, this year's Best Actress in a Motion Picture – Musical or Comedy winner, told the Globes audience that she thought she had a "good run" in Hollywood… and then Everything Everywhere All at Once came along. And when the exit music faded in, she refused to be played off the stage. "Shut up, please," she quipped. "I can beat you up, OK? And that's serious."
Angela Bassett at the Golden Globes
Claiming the trophy for Best Supporting Actress in a Motion Picture for her role in Black Panther: Wakanda Forever, Angela Bassett acknowledged her colleagues' grief and solace around the death of actor Chadwick Boseman. "Weeping may come in the evening, but joy comes in the morning," she said. "We embarked on this journey together with love. We mourned, we loved, and we healed."
Ryan Murphy at the Golden Globes
Ryan Murphy, this year's Carol Burnett Award winner, devoted his stage time to praising some LGBTQ actors in his repertory — commending Billy Porter, Niecy Nash, Matt Bomer, and Jeremy Pope, and giving Michaela Jaé Rodriguez an overdue ovation — to show young viewers that queer and trans success is attainable. "I offer up M.J. and Billy and Niecy and Jeremy as examples of possibility," he said.
Janelle Monáe at the Critics Choice Awards
Accepting the SeeHer Award at the Critics Choice Awards, Janelle Monáe said that their pronouns are "she/her, they/them, and free-ass motherf**ker." The Glass Onion actor also recalled that they were supported by loved ones when they couldn't see their own light. "So to anyone out there like me watching right now, I want you to know that I see you, but I challenge you to see you," they said.
Brendan Fraser at the SAG Awards
Brendan Frasier said that Ian McKellen's acceptance-speech advice was to "be good, be brief, and be seated." And his speech was so good, we're glad it wasn't brief. The 2023 SAG Award winner for Outstanding Performance by a Male Actor in a Leading Role observed that his character in The Whale is "on a raft of regrets, but he's in a sea of hope," and he could relate. "But believe me, if you just stay in there, and you put one foot in front of the other, you'll get to where you need to go," the actor added.
Ke Huy Quan at the SAG Awards
Ke Huy Quan's awards-season sweep was a victory lap for an actor who got a star-remaking turn in Everything Everywhere All at Once decades after his time as a child star. As he accepted the Outstanding Performance by a Male Actor in a Supporting Role trophy at the SAG Awards, he said, "To all those at home who are watching, who are struggling and waiting to be seen, please keep on going, because the spotlight will one day find you."
Everything Everywhere All at Once cast at the SAG Awards
The sight of 94-year-old actor James Hong busting a move on stage vaults the Everything Everywhere All at Once cast's Outstanding Performance by a Cast in a Motion Picture acceptance speech onto this list. Hong also recalled how white actors played Asian characters in the 1937 film The Good Earth because a producer was worried Asian actors wouldn't be good enough or commercially viable. "But look at us now, huh?" he said.
Stephanie Hsu at the Film Independent Spirit Awards
In her acceptance speech for Best Breakthrough Performance, Everything Everywhere All at Once star Stephanie Hsu spoke about how artistic communities — whether they be experimental theater troupes or independent film productions — can make something out of nothing and make a difference. "I hope I get to take this today less as an award, as a symbol of winning, but I hope that this can protect me in this moment of breaking through, that it can act as a talisman to protect that freak flag, that desire to help make and to offer stories that help us grow as a society and community in the best way that we don't know how," she said.
Quinta Brunson at the Film Independent Spirit Awards
In her acceptance speech for Lead Performance in a New Scripted Series, Abbott Elementary's Quinta Brunson mentioned that she started out making Instagram videos. "So I do want to dedicate this award to whatever kid out there right now is making a video on TikTok," she said, "If you care about it enough, and you respect the craft, and the craft is important to you, and you believe in it, and you study it … I hope that you know that with enough care for your craft, you can make it to win an award."
The Daniels at the Academy Awards
Everything Everywhere All at Once's Daniel Kwan and Daniel Scheinert shared a rare joint Best Director win at this year's Oscars, and they both spoke to the power of creativity — including "dressing in drag as a kid, which is a threat to nobody," as Scheinert said. Kwan also sent a grounding message to his son: "You should never have to live up to this standard. This is not normal. This is kind of crazy. I will love you no matter what."
Guillermo del Toro at the Academy Awards
This Pinocchio director didn't lie! As he and his collaborators on the film accepted the Oscar for Best Animated Feature Film, Guillermo del Toro said, "Animation is cinema. Animation is not a genre. And animation is ready to be taken to the next step. We are all ready for it. Please help us keep animation in the conversation."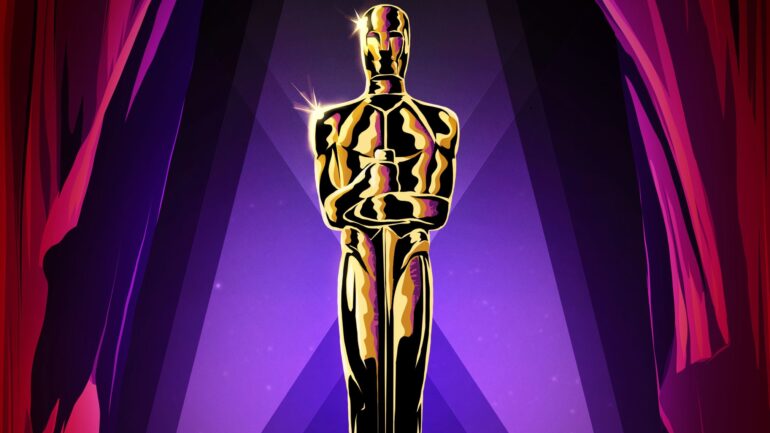 Powered by