'Veep' Star Anna Chlumsky Lands Recurring Role in 'Halt and Catch Fire' Season 4
Four-time Emmy nominee and Veep star Anna Chlumsky will be appearing in the fourth and final season of AMC's Halt and Catch Fire, the network announced on Friday. In her recurring role, Chlumsky will play chief ontologist Dr. Katie Herman, which AMC describes as a crucial role in this season's Search business venture.
Halt and Catch Fire chronicles the birth of the tech industry in the late '80s and early '90s. Season 4 sees the characters navigating the early days of the internet as the increasingly competitive nature of the tech world continues to affect their relationships.
"From day one on set Anna has brought a wonderful new energy to the show, that both complements and somehow even further elevates the work of our core ensemble," said creator and showrunner Christopher C. Rogers in the AMC statement.
"Anna brings a remarkable depth of personal experience and intention to this role, and we feel incredibly lucky to add an actress of her caliber to our palette even as we bring the series-long story of Halt and Catch Fire to a close."
"We are huge fans of Anna and are honored that she's become part of the Halt family as it enters its final chapter," added Christopher Cantwell, Rogers' fellow creator and showrunner. "She's transformed the character of Katie into something truly special, and it's quite a privilege to have such incredible talent bring this integral role to life. We can't wait to share her work this season with our viewers."
Halt and Catch Fire also stars Lee Pace, Mackenzie Davis, Scoot McNairy, Kerry Bishé and Toby Huss. Season 4 premieres later this summer on AMC.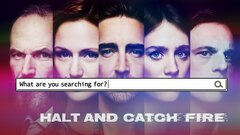 Powered by