'Veep's Anna Chlumsky on Season 5, Crazy Hollywood Moments and Returning to Showbiz
Anna Chlumsky is hungry. Starved, she corrects, as she dips into a creamy soup starter at Manhattan's hip Crosby Bar restaurant. Chlumsky has just finished a photo shoot to promote the fifth season of her hit HBO sitcom Veep, in which she plays stressed-out Amy Brookheimer, girl Friday to the überdemanding, hyper-incompetent sitting president, Selina Meyer (Julia Louis-Dreyfus)—a role that's earned her three consecutive Emmy nods. Underneath her unfussy gray sweatshirt, ash knit skirt and casually swept-back blonde locks (held in place by a No. 2 pencil), she's five months pregnant with her second child (she and husband Shaun So reside in Brooklyn with their toddler, Penelope). In person, the actress couldn't be less like the single Beltway babe she plays on TV, who lives and dies by the latest CNN poll.
"I'm not totally type B and hippy-dippy. I've got that in me. But, man alive, the competitive thinking that goes into Amy's lifestyle … I just can't," she says, widening her big blue eyes. "It's too exhausting! For her, it's perfect because she's in her own Greek tragedy and everything is life and death. She doesn't have anything else. It makes me feel so bad when women come up to me and say, 'I'm Amy.' I'm like, 'I'm sorry,' and I run!"
Not that Chlumsky isn't aware of what it's like to chase success in a field that smiles on a few and beats many to an emotional pulp. At 35, she's already on her second go-round in Hollywood. As a preteen, she received raves for her role as a kid who loses her best friend (Macaulay Culkin) in 1991's My Girl, but she chucked it all away for college at the University of Chicago and a career in food writing before returning to acting in 2005. And by "returning," we mean starting over from the bottom (think: off-off-off-Broadway productions), before earning the part of a D.C. insider in Veep creator Armando Iannucci's feature film In the Loop, which led to her casting in the series. "There were some real bottoms," she says, "real bottoms." Chlumsky talked to us about those, getting back in the loop with Veep and knowing a little too much about Jean-Claude Van Damme. Thank you, Hollywood childhood!
So your craziest L.A. story involves … Jean-Claude Van Damme.
Well, those tales come out of nowhere! My My Girl 2 costar Austin O'Brien was in Last Action Hero, so I got to go to the huge premiere party. Except they had porta-potties. I was 13, waiting forever in this line and finally reached for the door and this short dude with big shoulders in a peach suit cuts me and goes in for a while. I'm like, "What?" It was Jean-Claude Van Damme. So Jean-Claude Van Damme cuts the bathroom line and what he left behind wasn't pretty.
RELATED: How Bill Clinton Inspired Veep's Season 5 Premiere
Did you like living in L.A.?
I didn't [live there]. We always stayed in Chicago. If I had to work, my mom put the pets in crates and we'd drive there. It was never "My kid is going to be a star!" Which I'm grateful for, because, even in my version of Hollywood, I didn't come out unscathed.
What happened?
Adolescence in the business is so fraught. I was told I wasn't getting certain roles because I was too heavy, even though I wasn't. Hello, body dysmorphia! I worked a little in college and then I remember auditioning one day and getting back into my car, putting the script on the passenger seat and going, "I just don't have to feel this way anymore." Not everyone who played football in high school went on to be a player. I stopped paying my SAG dues right then.
What did you do instead?
After college, I flew myself out to New York to interview at [dining guide] Zagat. I knew I was a good writer. And who doesn't want to eat and travel? I stayed with my cousin, who was doing improv and living in Brooklyn. I took the F train to the interview. They gave me a job fact-checking. They put me and two others in a room with no windows and had us cold call every property in the book. It was horrible. When people got a bad rating, they hated you! I never did any writing.
Why'd you return to acting?
For the next two years, I was going to Broadway shows and thinking, "Oh my God, this is amazing!" All that stuff that had been in my head, I didn't care about anymore. So I went to train at the Atlantic Theater Company. The first day there I was like, "I'll do this forever. I don't even care if I don't get a job. I will at least try."
RELATED: Ex-Obama advisor: Veep has TV's most accurate depiction of Washington
When did you first feel like you were "back"?
Oh, doing a play in a church basement in Queens. Totally. I was like, "OK, I'm a working theater actor."
And now you're on a series that won best comedy at the Emmys and playing opposite Julia Louis-Dreyfus on a regular basis.
After five years, I still feel honored to play in the same sandbox as Julia. I've been in a master class on Veep.
This season is the first since Iannucci stepped down and was replaced by Seinfeld producer David Mandel. Was that hard?
Everything I do today is because of Armando. But David did a great job. I don't envy jumping into a show with Veep's accolades and making it your own.
Last year, Amy had a breakdown and quit, and now she's back trying to ensure Selina's victory in the presidential election.
Amy's a really confused individual, isn't she? She's so un-self-aware, she doesn't know why she does the stuff she does half the time.
She also starts working—and flirting—again with her archenemy, political consultant Dan (Reid Scott).
Just so you know, Amy still hates his guts. I always say that to people and they'll be like, "Yeah, yeah." But where that plotline takes her is just complete humiliation. This is a humiliating season for poor Amy.
And to make things worse, she gets a younger rival.
Yes, Candi with an "i" [Morgan Smith]. There's a line where Amy says she spells her name "with a 'y.' The right way." I agree with that. I know I said it was bad, but one wonderful thing about D.C. is that they're unabashedly competitive. In acting, sometimes we're genuinely happy for someone who gets a good gig. But not in D.C. They say congrats, but they're not hiding the fact that they're really saying "I hate you." And that's kind of darling.
Veep, Season premiere, Sunday, April 24, 10:30/9:30c, HBO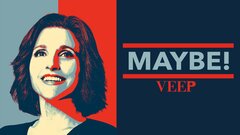 Veep
where to stream
Powered by