Anatomy of a Hit: What Does It Take for a TV Show to Reach the Top?
Every fall, they rise: the TV ads about TV shows. "TV's new hit comedy!" "The biggest drama on TV!" "The year's most talked-about show!"
Networks never tell you by what metric, exactly, these shows are "biggest," or "hits." It's not necessarily charlatanism, or because the terms are totally devoid of meaning. The meaning just ain't what it used to be.
There is something to the concept of a true-blue, honest-to-goodness "hit" show, compared to a cult favorite or run-of-the-mill ratings grabber. You can feel when a series has entered the collective consciousness: The odds of a random person on the street not having heard of Breaking Bad drop to nearly zero. Everyone at your 15-year high school reunion is talking about the last latest episode of Empire, instead of the school gossip. Maybe your grandfather asks you for your HBO Go password so he can catch up on Game of Thrones. Shows like these, as Fox COO Joe Earley puts it, "check all the boxes": Becoming part of the cultural fabric these days doesn't just mean grabbing the biggest piece of the audience pie—you need the a community of die-hard fans and the seal of approval from various third parties like media outlets and awards bodies, too.
By the Numbers
In the pre-DVR era, the shows with the highest Nielsen ratings were the ones the most people were watching; thus, "hit" Now, the sheer volume of shows and ways to watch them (DVR, VOD, streaming app) lowers the odds of a given show truly breaking out, and getting America to watch new ones has become a Sisyphean task. But while live viewing numbers have plummeted into a veritable Marianas Trench, for traditional networks, that merely makes them relative, rather than irrelevant.
Luckily for subscription cable networks like HBO, which has no advertisers to placate and focuses on total number of subscribers, great numbers for undeniable phenomena like Game of Thrones are merely gravy (6 million live viewers a week, for a channel that's only in about 30 million homes). The same goes for new players like Netflix and Amazon, online subscription services who aren't measured by Nielsen, and so aren't subject to the same kind of public gawkery as everyone else. Traditional ratings for their original series would be particularly irrelevant anyway, given that they don't "air" in a specific timeslot. (More on them later; it's not just the lack of concrete viewership data that makes it harder to assess a streaming original's hit status.)
The template for the modern hit was actually minted on basic cable, though. While developing The Walking Dead, the unlikely juggernaut that blows its timeslot competitors—including, on occasion, Sunday Night Football—out of the walker-infested water, AMC's research team reminded network president Charlie Collier that although the network's annual Fear Fest movie stunt in October had done well, historically, that was no guarantee that anyone other than undeadheads would tune in on a weekly basis for what was, after all, a fairly bleak portrait of humanity's end. AMC's only two other original series, Mad Men and Breaking Bad, were modest ratings performers, so Collier was content to serve a niche audience without worrying about broader appeal.
The show premiered to more than 5 million viewers on October 31, 2010—already an impressive number on cable, and even more so for AMC—and a million more showed up for the Season 1 finale. Lather, rinse, repeat, until the Clockwork Orange-eye-widening, record-shattering Season 5 premiere on October 12, 2014, which saw 17.3 million total viewers (11.5 million in the advertiser-coveted 18-49 demo) tuning in that night. That total viewer number is about the same as CBS' NCIS, but Dead currently outdelivers those precious younger viewers by at least 200 percent.
"We're a network that's done some pretty eclectic shows," Collier demurs. "Eclectic in terms of content, and how you measure them." In other words, AMC's initial underdog status bred a development strategy of first catering to a potentially loyal, underserved audience, regardless of genre or results.
That philosophy has finally found traction on the broadcast side of the guide, which had been looking for its own Dead-esque phenomenon for a few development cycles. The result was three successes at the start of the 2014-15 season—The CW's The Flash, Fox's Gotham, and ABC's How to Get Away with Murder. Flash's premiere was the highest-rated telecast in The CW's history, and even now it gives a fair number of NBC and Fox series a run for their money in the demo. Gotham has cooled somewhat in the latter half of the season, but it was a vast improvement on the previous timeslot occupant (journeyman Bones); a self-starter that bore up well against the competition and has nice DVR gains. And How to Get Away with Murder was one of the rarest birds of all: A 10 p.m. drama whose debut built on its lead-in (the still-impressive Scandal).
But even that didn't quite seem enough to break out the "BROADCAST'S BACK, BABY" banner. (One could also point to pre-existing fanbases for comic book adaptations like Flash and Gotham's Batman, if one felt so inclined.)
And then came Empire.
Not only did the Fox hip-hop soap have an impressive debut on January 7, building on its American Idol lead-in, it has since grown its total live audience week after week, for all 12 episodes of Season 1—the first series to do that in 23 years.
It isn't just the highest-rated broadcast drama among 18-49ers; its average live ratings in that demographic beats the combined averages of the last three NBC dramas to premiere. By the eighth episode, the live numbers were bigger than the live-plus-seven-day ratings for its first two episodes. This remarkable run ended last night, with a gonzo 17.6 million total viewers and 8.8 million 18-49ers for the Season 1 finale.
Earley attributes Empire's gravity-defying ratings to word-of-mouth. "If you can be a hit with a core group of people, then first of all, you're a hit, but you also have a chance to spread out from there," he says. "And we have this incredible fanbase that is doing a great job of telling their friends and family they should also be watching."
That is what separates an Empire from an NCIS: New Orleans. The latter delivers big total audiences, and CBS was justified in calling it the "#1 new show of the season" in the fall. (Fun fact: Nielsen actually has a rule wherein a network cannot use its data to market a show as "#1" unless the show has the most total viewers; otherwise, disclaimers have to be made about which demographic they're talking about.) But the number of conversations—whether in the workplace or online—that begin with "Are you all caught up on NCIS: New Orleans?!" is dramatically lower.
Online conversations are a key part of TV-watching now, whether conducted via Twitter or Facebook or Vine or any other social platform. While there's no clear causal link between higher Twitter volume and higher ratings—no matter how hard Nielsen's social metrics team might try to argue there is—executives are starting to take note of social stats to figure out who, exactly, is watching their shows.
"When social media entered the picture, we started to say, 'Oh, we should look at engagement as well, to figure out how big a hit something is,'" Earley says. "Are people just grazing on a show, or are they really connecting with it?" People certainly seem to be connecting with Empire: 185,000 unique tweeters during the March 11 episode, according to Nielsen's Social TV stats. That was 73,000 more than the March 8 episode of The Walking Dead, which came in at a respectable second place to Empire's first; Dead typically dominates this metric.
Collier believes one factor behind Dead's geometric growth is its "authenticity," the gritty universality that makes people want to talk about it. Timing, though, may have been an even bigger factor: In 2010, Twitter was just reaching its zenith, and Facebook had yet to complete its transition into an ad-overloaded forum for political arguments with your elderly relatives, providing the perfect online outlets for TV obsessives. And perhaps most important of all, Dead premiered just months after the end of one of the most heavily serialized, fan-dissected series in TV history—Lost. Dead was a natural replacement for fans looking to follow a new band of survivors through a danger-infested world.
Follow they have, to social platforms like Twitter, after-show The Talking Dead (which also outrates its broadcast competition), San Diego Comic-Con, and even Universal Studios' Halloween Horror Nights.
With shows for which we have no viewership stats, social provides at least some sort of window into the fandom: House of Cards has 1.8 million Facebook likes; Orange Is the New Black has nearly double that, with 3.4 million. (CBS' monster comedy The Big Bang Theory, incidentally, has 33 million Likes.)
But even with social stats, streaming originals remain a sticky wicket. The algorithms that decide what terms and hashtags trend on Twitter don't necessarily correspond to tweet volume, so while it might seem impressive that Netflix's Unbreakable Kimmy Schmidt trended nationwide during the day of its release (March 6), that only indicates that at least a handful of people decided they couldn't contain their opinions on the show, and because the episodes have all dropped, that's likely to be the only real spike in engagement until the next season is available. Amazon's Transparent, about a family whose father is transitioning to a woman, won universal critical praise and the Golden Globe for Best Comedy this year—and is an Important Show besides—but it has fewer than 200,000 "Likes" on Facebook, and only 19,632 followers on Twitter.
Netflix can crow about the "success" of a show like Marco Polo—"The volume of viewing has been phenomenal," chief content officer Ted Sarandos said in an earnings call last month—but, as several network heads have noted, solitary viewers bingeing (or slowly picking) their way through a season isn't exactly a substitute for experiencing a particular moment at the same time as millions of others. You could, technically, live-tweet your binge of House of Cards or Orange Is the New Black, but you're either shouting into the void or spoiling the show for most of the people who follow you.
Such an observation might seem self-serving, but there's a valid point there. When everyone is watching a show at different times, it just can't be a galvanizing force of the same kind as the last eight episodes of Breaking Bad or the final season of Lost, cultural touchstones that still resonate.
All About That Buzz
That's not to say streaming originals can't become as relevant as said touchstones; they just have a much longer, windier road that's more dependent on pleasing society's perceived tastemakers: the media and the awards-givers.
As Earley points out, "You can have a massive hit that the press don't love, and you can have a press darling that is not a hit," but media attention can often mean the difference between a cult series and a phenomenon. TV writers now act as cheerleaders, both out of love and the need to pull in certain fanbases (keep clicking, #Fannibals!), and in the absence of a clear ratings win to tout, networks have found using media mentions in promos is a great way to lend credibility to any claims of hitness or hotness.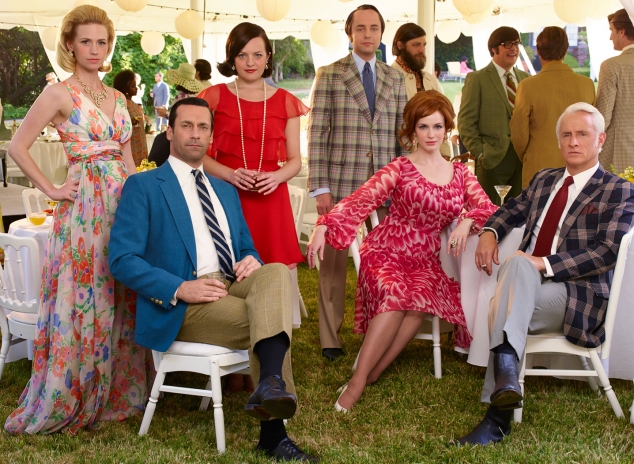 And sometimes press and awards are enough to force a low-rated show into the collective consciousness. Take AMC's Mad Men: The ad-man drama has never been more than an OK ratings performer, even by cable's lower standards (though it does have the richest audience on TV). Yet Mad Men parties are almost a cliché, now. The Smithsonian is about to induct Don Draper's suit into its hallowed halls. And in President Obama's State of the Union address this year, he dropped a Mad Men reference while talking about income inequality—and didn't have to explain it.
Why? The show is catnip to the criterati and awards bodies: a period piece shot like a film, slow-paced, with profound themes and excellent performances from attractive people. It won the Emmy for Outstanding Drama Series for each of its first four seasons. Pop culture-based sites do pre- and recaps, recap roundups, and comment recaps for every episode of the show, partly because of the resulting web traffic that puts California gridlock to shame. It's the pop-culture equivalent of a perpetual motion machine—fans flock to media coverage; media coverage ramps up to take advantage of the fans; voters in awards-giving bodies take notice; etc., etc.
Dependency on these cultural gatekeepers goes double for Netflix, Amazon, and other streamers who have no incentive to release viewership data, but still need a hook to draw in new eyeballs. Being nominated for awards shows doesn't generally give series on traditional networks a ratings boost—Fox's Brooklyn Nine-Nine won the Golden Globe for Best Comedy in 2014, yet it didn't see a bump until the network gave it a plum post-Simpsons timeslot in the fall—but it's all streamers have, outside of their own marketing efforts.
And when they don't even have that, you get a show like Amazon's recently released Bosch, a crime drama about an antiheroic LAPD detective. Amazon touted it as having the biggest debut weekend of all its originals, but you wouldn't know it from the anemic coverage. The only one of the company's originals to make even a critical ripple is the aforementioned Transparent. To be fair, when parents are asking their kids over Christmas break about whether it's fair to hire a non-trans actor to play a trans character on Transparent, that means something. It just doesn't necessarily mean it's a hit.
Playing the Odds
The sheer number of variables makes it hard for networks or cultural rubberneckers to predict the Next Big Thing. "Will we tick every box? I'm not sure," Earley said just before Fox's new comedy The Last Man on Earth premiered. He added, "I think it's going to be a hit, because the people who have watched it love it. But it's hard to predict anything more than that." America responded with a healthy interest, but these days, the best networks can do is guess at how well a show will open, then allow the TVPTB (TV Powers That Be) to do their work. Turns out that a "hit" these days isn't all that dissimilar from hard-core pornography: You only know it when you see it.