First Look: Mad Men's Aaron Staton and Rich Sommer on the Show's End (VIDEO)
xsFc5CVJ
Sterling Cooper hasn't necessarily been good to Ken Cosgrove (Aaron Staton) and Harry Crane (Rich Sommer). Ken's eye was injured while hunting with Chevrolet staffers. Harry fumed over not being made partner (until he finally got that promotion).
As Mad Men returns (April 5, 10/9c, AMC) with its final seven episodes, 1970 is fast approaching – and with it, even more of a cultural revolution.
Here's a peek at what that means for the show's characters, as shared by Staton and Sommer.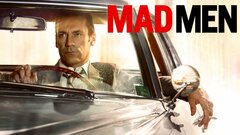 Mad Men
where to stream
Powered by