Empire is a Big Hit For TV. But Why Hasn't Radio Embraced It Yet?
Empire is a TV ratings phenomenon, and its newly released soundtrack is now topping the charts. Yet Empire hasn't yet made a dent in radio, where original music from the hit show is still noticeably absent.
According to Nielsen Broadcast Data Systems, which tracks airplay of songs, Empire singles have not yet received many spins at radio stations around the country. As of March 2, only a few Empire songs had landed on the air in a handful of markets. "Good Enough" (performed by Jussie Smollett, who plays Jamal Lyons on the show) has received the most plays, especially at R&B stations in Jackson, Miss., Charleston, S.C. and Wilmington, Del. But in major cities like Los Angeles, radio stations have not yet played a single song from the show.
"Radio is missing the boat a little bit," says Dave Bakula, senior VP of industry insights at Nielsen Entertainment.
Empire: Original Soundtrack from Season One entered the Billboard 200 albums chart at No. 1 this week, elbowing out Madonna's new release–not bad for a show that was considered a risky bet for Fox. Besides the album release, Empire is also a hit on streaming music services. By the end of February, on-demand tracks from the show had already been streamed more than 20.4 million times, according to Nielsen Music.
Songs leading the way in streaming include "No Apologies," featuring Smollett and Yazz (the stage name of Bryshere Gray, who plays younger brother Hakeem), "What Is Love" by Veronika Bozeman (who guest stars as an Empire Records artist) and "Good Enough."
The show had also generated 557,000 total track downloads by the end of February. "Good Enough" leads song sales, with nearly 100,000 purchases, followed by another track from Smollett, "Keep Your Money" (68,000 purchases).
"There's obviously a ton of demand out there for these songs," Bakula says. "Millions of streams since they've been released, and the songs are selling very well. For radio to be missing out on something like that [is unusual]. Radio usually does a great job of picking up on trends."
But Emmanuel "E-Man" Coquia, the music director and assistant program director at influential Los Angeles radio station KPWR "Power 106," says he's waiting on Columbia Records to figure out its radio strategy.
"We're having a conversation with the actual record label, and they're in the process of figuring out which songs to work to radio," he says. "Because of what they're seeing with the show, the record label is trying to put together a plan with what they feel is the best song to push first."
According to Coquia, Columbia is leaning toward servicing R&B/urban stations with "Good Enough," while also working the song "You're So Beautiful," also featuring Smollett, to a broader radio format (such as Top 40).
Fox airs the season finale of Empire on Wednesday night. Is radio getting on board too late? "I'm not sure," Coquia says. "It's hard to say. I think they were trying to get a feel for how the audience would react to the show and obviously they reacted like crazy. Waiting to see which songs would translate from that. Usually with music it takes a second to really see."
Coquia says he believes "the 'Good Enough' record is a good song," yet he hasn't yet tested it with Power 106 listeners. And the station isn't yet getting requests from listeners asking to hear Empire music. "Our audience saying they love the show and the characters," he says. "But that's how they're reacting right now. The next step is to see how the music generates a reaction."
But Coquia notes that Power 106 hasn't yet "been worked upon by the record label side on any priorities on their end." He says the station is open to playing Empire songs. "If the music is great and big enough to where the listeners and fans react to it, that's when we decide if timing ways it makes sense to play. It's a timing thing."
Is there also a bias in radio against playing music popularized on TV? Glee was a hit for Fox and generated several chart-topping albums. But the show's songs (mostly covers of popular tracks) never made it to radio. Music from popular talent competition shows like The Voice and American Idol are also shut out of radio playlists. In many of these cases, it comes down to unknown talent either performing songs that are already popular via well-known artists… or unknown talent performing unknown original songs. But now that Empire is a smash, the show is breaking both of those barriers.
"The challenge with Glee was its cover versions," Doneen Lombardi, senior VP of marketing at Columbia Records, said last fall. "Certainly radio will be a part of our [Empire] campaign, but we want to develop a smart campaign for the songs. When we're marketing music, radio is absolutely a part of that. We hope this music is played on radio."
Geoff Bywater, senior vice president of 20th Century Fox TV Music, credits music producer Timbaland for assembling a team that gives Empire its infectious music. "One thing we really did learn on Glee, was as much as we tried, trying to get an actual single on a cover is difficult. Empire's original music lends a stronger, more credible voice to the show."
Radio consultant Sean Ross, who writes the weekly "Ross on Radio" newsletter, says radio also ignored Glee because Columbia decided to promote the soundtrack albums and not the songs. "It made sure radio got the music, but it didn't "work" any song until they had an original to promote (which, as it turned out, wasn't a hit). But that's often the explanation when radio doesn't acknowledge the phenomenon."
Ross expects there will eventually be a hit from Empire, and that it will be good for hip-hop overall.
"The show moves hip-hop further back to cultural prominence, in the same way that "American Idol" and Kelly Clarkson did for mainstream pop at a low period," Ross says. "Top 40 has been busy making its own records and they only want the rare hip-hop records they can start. But Empire is harder for pop radio to avoid, if it's the right song."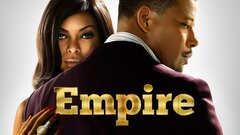 Empire
where to stream
Powered by