Counting Down the 7 Craziest 'Bachelorette' Moments of All Time
Doesn't it seem like it's been forever since we've gotten our Bachelor fix? Oh, it hasn't? It's just us? Cool. Well, we've been dying to have The Bachelorette back to grace our television screens. With Rachel Lindsay at the helm of the newest season, you just know it's going to be a good one.
We couldn't help but look back on past seasons of The Bachelorette in advance of Season 13, which begins May 22 at 9/8c on ABC. There have certainly been a fair amount of crazy, over-the-top moments throughout the previous 12 seasons of The Bachelor spin-off—this is Bachelor nation we're talking about, after all.
Let's take a look at some of these outrageous moments and enjoy the wild ride that is The Bachelorette.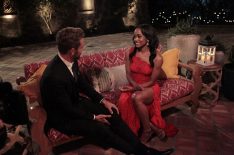 See Also
The Texas attorney makes history...and perfect sense.
7. The Messy Country Singer (Season 5)
Wes Hayden was an all-around mess on Jillian's season. In case you forgot, Hayden was the resident country crooner that year. But, it was soon revealed that he was on the show to promote his singing career, a big Bachelor nation no-no. Amazingly, things got even worse for Hayden. Someone spilled on the fact that he actually had a girlfriend back at home, an even BIGGER Bachelor nation no-no! He was obviously given the boot, but the drama he created on Jillian's season is forever in our memory.
6. Double the Bachelorettes, Double the Drama (Season 11)
Season 11 of The Bachelorette started out a bit differently. Instead of having Kaitlyn be the Bachelorette from the get-go, the producers decided to have Kaitlyn face off with Britt Nilsson and have the men decide who they wanted to be their Bachelorette. Ugh. No one was happy about this, least of all Kaitlyn, who said that the situation was "not ideal." You can say that again, Kaitlyn. Luckily, it all worked out, and Kaitlyn became the Bachelorette. It was pretty crazy at the beginning there for a moment.
5. "Rated R" Levels of Crazy (Season 6)
Yep, there's yet another case of one of the men having a secret girlfriend back at home, this time in Ali's season. One of Ali's castmates from Jake Pavelka's season of The Bachelor, Jessie Sulidis, came on the show to tell Ali that one of the guys had a girlfriend back home. The man in question was Justin "Rated R" Rego. With a nickname like that, was anyone really surprised that this happened? When Ali confronted him, he decided to run away. The only thing was, he had a cast on one of his legs. So, the last we saw of Rego was him hobbling away through the bushes, trying desperately to get away from harmless Ali. Hilarious.
4. Brooks Peaces Out (Season 9)
This one was such a shock. Brooks was largely seen as the frontrunner on Desiree's season of The Bachelorette. During their fantasy suite date, Brooks told Desiree that he wasn't in love with her and he had to leave the show. Desiree was heartbroken over the surprising turn of events. Who knows if the two would have wound up together? The process did work out for Desiree in the end, though, as she picked Chris Siegfried, and the two are still together as of today.
3. Jen Picking No One (Season 3)
Jen Schefft was the original Brad Womack. Sure, Jen didn't outright reject both of her final two like Brad did on Season 11 of The Bachelor. But, she did end up turning down a proposal. The final two on Jen's season of The Bachelorette were Jerry Ferris and John Paul Merrit. Jen ended up choosing Ferris, but rejected his proposal in the end, saying that she wanted things to do things right (i.e. not get engaged right away). This was the first time in the franchise's history that something of this nature happened, so it was a wild moment even if it wasn't as over-the-top crazy as…
2. Bad Chad (Season 12)
It's hard to pick one crazy thing that Chad did during JoJo's turn as the Bachelorette. Chad caused drama with basically everyone involved on his season (and eventually took his reign of terror to Bachelor in Paradise). He honed his anger on fellow contestant Evan and even tore his shirt in one altercation (although Chad claimed that it was an "accident"). His elimination on a two-on-one date in the woods wasn't even enough to stop him. Instead of leaving in a limo, like a normal contestant would have, he proceeded to menacingly whistle and walk through the woods. He strolled back to where the other contestants were staying and got in all of their faces, almost coming to blows with the eventual winner of the season, Jordan. This was the absolute craziness that we live for in watching any Bachelor show!
1. Nick's Admission of…Love (Season 10)
The other moments may be crazy, but Nick's admission on After the Final Rose of Andi's season was on another level. It was shocking in just about every way. Nick showed up on After the Final Rose with some choice questions for Andi after she rejected him and instead chose Josh Murray. When Nick asked the now infamous question, jaws dropped everywhere, gasps could be heard around the world, and Chris Harrison fainted at the audacity of it (well, maybe not exactly). Nick told Andi, "If you weren't in love with me, I'm just not sure why you made love with me." Andi told Nick that she thought that was "below the belt" and it definitely was. It's also our pick for the craziest Bachelorette moment of all time. Check out this video for every awkward and crazy part.
One can only hope that Rachel's season will provide us with some equally crazy moments.
The Bachelorette, Mondays beginning May 22, 9/8c, ABC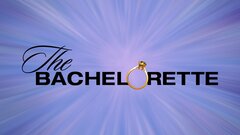 Powered by