'Underground' Star Alano Miller on Patty and Cato: 'The Game Is Afoot!'
Alano Miller's Cato took a mighty beating—physically and emotionally—in last week's jaw-dropping Underground.
Captured by ruthless slave trader Patty Cannon (Sadie Stratton) along with his naive love Devi (Rana Roy), Cato was brutalized, humiliated and forced into the worst game of Let's Make A Deal ever by the ginger-haired baddie. But if there's anything Underground fans know for sure, it's that Cato may be down, but he's never out.
In Wednesday's equally stunning episode eight, Cato gives Cannon's ego a pinch, then suggests she is wasting her time chasing Rosalee (Jurnee Smollett-Bell), when an ever bigger prize awaits. And so, says Miller, "the game is afoot!" As Ernestine (Amirah Vann) acquires a surprising ally, and Noah (Aldis Hodge) and Rosalee plot their next move in Macon, a reunion may be afoot, as well.
We caught up with the charming actor to talk about Cato's rise and fall, and what his mission might be.
What were your earliest thoughts when you started getting Season 2 scripts in your hands and saw all of these incredible nuances of Cato that were emerging.
Alano Miller: I was extremely excited. For me, it's always, where are we going to go next? How deep can we go? What new layer can we unfold? I sat down with Misha and Joe [creators Misha Green and Joe Pokaski], and that was one of the things that we talked about, which is they wanted to go darker, they wanted to go deeper and to take viewers on a journey in a quick span of time.
That was exciting for me. I had, like, a line in the second episode and then in the fourth episode, Cato comes out of nowhere and, like the force he is, he kinda wants to just take over the television screen. [Laughs] He's a voice that wants to be heard, and he has to be dealt with—I think that's what's so powerful about him. I mean, first he's well-traveled and has money to throw at parties and he's changing sides and being a slave abolitionist, and then all of a sudden he's dragged into this circumstance.
See Also
Think the premiere of 'Underground,' WGN America's hit drama, was a nail-biter? There is much more to come this season. Stars Alano Miller, Amirah Vann, and Jessica De Gouw sat down with TV Insider to share the details!
And you have to remember, because Jurnee was pregnant, we shot this season out of sync. So I would get tidbits of things from episode 10 that I would shoot before I shot episode seven or eight, and I would go, "Wait wait, how do I … ?" And they go, "We can't tell you that part yet. Don't worry, we'll link it. You'll understand. We'll help you through it." [Laughs]
Tell me about playing European Cato, because I'll admit I was charmed by his ease and his humor and his elegance. What did playing those things and that time in his life tell you about this character and why he adapted to that society so well and who this guy might really be at his core?
He has always been a fancifully dressed man. I think he's always wanted the finer things in life, and he's always seen himself as—I wouldn't say better, but deserving respect. So the moment that he became free, that's what he's going to do. He knew to travel abroad where he can explore and see things from a different point of view. When he arrived in London, he is not instantly changed, but he sees that he's not being treated the same way that he would be in America. He's a free man there, and he can start all over again and give himself a different name, and he now has hired help and he is falling in love.
He's also being introduced to another world where he's fighting and he's using his pain and his frustration and everything in these underground fights, and at the same time he's studied and he loves art and he speaks a bit of French—and he's done this all in the span of a few months. I mean, this man is just a chameleon. He can blend! And that's a bit of his, the hustler in him, and the person that just wants to be seen. He wants to be seen, he wants to be accepted, and that, to me, was a big honor to play a Cato that has a bit of his heart on his sleeve. But at the end of the day, that punch—the man with the brass in his hand who sucker punches him—at that moment he realizes that it was all a dream.
And because that is all a dream and it's not real, it kind of forces him to say, "I'm going to go back to America and do it there. I'm going to take over there. I'm going to be respected there. I'm going to get out of this world and come into the world that I know." And he also wants to go back and get Noah, which is very important. [Laughs] But he thought London was the truth for him. It isn't. That is not him. Season 2 has been about the journey of finding out who he is and what he really wants and coming to some acceptance of the man and the fight that's going on inside of him. It's a fully-fleshed out human being when a man who's constantly at war with the good and evil inside of him.
See Also
The series will be co-produced by Pastel and Brad Pitt's Plan B.
The "Nok Aaut" episode was exceptional. But when Cato says the difference between him and the rest of the world is that everyone hides who they are, I couldn't help but think that Cato does hide his better self—the one who finally reveals the source of his pain to Rosalee, who did help Noah and the runners, who Devi did see in those better moments and who let those slaves go when Noah refuses to take their place. What do I make of that?
As human beings we put up walls. It's not always our truth, but it is what we do. We put up walls and we lie to ourselves. We know the truth about what is to be and yet we still fight against it, and there is something about that that Cato goes through. That, for me, is what I enjoy playing about him. I've been given this extreme situation, but at the same time, it is something that we are all dealing with—"No, I'm not going to let anyone take advantage of me. I will not be hurt. I will not be destroyed." Like he says in episode nine of Season 1, "The heart is meant for nothing but pumping blood."
It's that thing. Every time he says, "I'm going to give my heart to Devi," all of a sudden something reminds him that this is not the truth. It's always sobering moments for him. He releases the slaves and says, "I'm going to go do this thing," and then Patty Cannon shows up. Sobering moment. He stands in front of Devi, who has been taken into slavery, and says, "I'm doing this for you, for us," and she says, "No. I don't want to do that. Don't do this for me." And then she says, 'You're a bad human being.' Sobering moment. It's just constantly being hit with a truth he has to deal with. And it's going to be a long journey for him before he comes to terms with who he really is.
About the scene with Devi, I wasn't entirely certain how she came to be turned back over to Patty. Cato tried to tell her what slavery can do to a soul and a body, but did she let herself be given back to Patty because she had never lived it, or did Cato actually count her toward his debt, knowing that he and Devi were so different at the core?
They were always different at the core, which is why he left the first time. That wasn't his life. She came after him; he didn't send for her. That's not his life. That's not real. Cato always has known that and he didn't want to drag her into this situation — but now that she's here, he wants to help her get out. And when she says that to him, that is one of the worst things you can say to someone.
But no one will truly understand how slavery breaks the spirit, the soul, the body, the mind. And it does put you in a place where you are constantly an alien in your own skin. That's what every single one of these characters are going through. You look at Rosalee, you look at Noah, everyone is aliens in their body and they're trying to find the truth in themselves. They're trying to find the hero. They're trying to find the purpose. They're trying to find the freedom within themselves, because it's been taken away from them on so many layers.
We've really seen the lines between Cato and Noah blur this season, where each are doing things and having to admit things to themselves about themselves and about each other that don't sit well. Fascinating to play?
It is very interesting that Cato specifically has gone out of his way to show that Noah is just like him. Everybody starts off with good intentions, but that doesn't mean that it's the right choice. And everyone thinks that they're a hero, but in actuality, they're not. I love that—and to a degree I hate that—Cato is showing Noah a truth that he cannot handle at this point. But at the same time, Cato has so much anger and so much pain that he is relentless and he wants to prove his point. He just meant to capture him so he can manipulate him and break him and then let him out free in the world to say, 'Now you go live the life and see it from a different point of view.' I think that is very interesting — and then for him to now be a slave catcher himself, man! What's about to happen, it's going to get crazier and crazier!
And it's still a chess game for Cato. It's still a chess game. Even catching slaves, playing the game that Patty has set for him, it's still a chess game. And he's going to play it. And he's going to win.
It had to be shocking for you to learn how far Cato was about to fall, though.
Looking in the mirror for the first time with a shaved head, no eyebrows—it was frightening. Parts of me were like, "This is cool!" and then other parts of me were like, "What is going on, what happened to you? How did we get here? What are we going to do about it to get out of it?" It is that thing of just losing all hope. I lose the love of my life, I lose my hair, my look, all of it—and then I'm made a fool in front in front of Patty when I take the rifle away from her and I try to shoot her.
Then I have to go out and catch a free man—who could've been me, by the way. That could've been somebody else trying to capture me. And then to come to the point where he says, "None of us are free," that is a true statement in that he's saying we're always going to be enslaved. And that's what he believes at this point. To lose Devi in almost the same way that he lost his wife and daughter the first time, it's all coming back. It's like a vicious cycle just coming back to him. To play that was emotional for me, because this is a more emotional Cato. This isn't someone who's as calculated—but he is still calculating his circumstance, you know what I mean?
RELATED: Sign Up For TV Insider's Underground Newsletter
That said, watching Cato and Patty go toe-to-toe, though, is undeniably exciting for the audience. Every time Sadie Stratton opens her mouth, I gasp at what comes out, but she owns it and she walks it. Was it exhilarating to be dealing with this formidable new adversary who is as fiercely intelligent as Cato is?
Yeah! Because, again, this is a chess game, and it's like, 'Oh wow. She has some really great punches in there!" She's already made me look like a fool. She's used Devi against me. She's winning right now; she's got all the chess board looking great on her end. But Cato loves opponents, so it's like, "OK, you're smarter than me and you have all these things, but I'm going to bide my time. I'm going to do it my way, and I'm going to bait you in. I'm going to let you play what you think is your game, but you're playing my game." And I think that's what's going to be exciting to watch the next couple of episodes, how he does what he does. How does Cato get out of this?
In episode eight, we learn his plan is a bold one. And that he has a fine memory and observational skills.
The game is afoot! [Laughs] Now it's about the relationship between him and Patty Cannon. He baits her and we'll see if she really bites or if she's playing along. We'll see. But, you know, there are two different missions. Cato has his own personal mission and Patty has a mission that she's giving Cato. And we'll see which one he tends to take. A lot of people are going to cross paths. Let's say that they'll all cross paths—but they'll not know who each other is. How they deal with one another is going to be very interesting!
Underground, Wednesdays, 10/9c, WGN America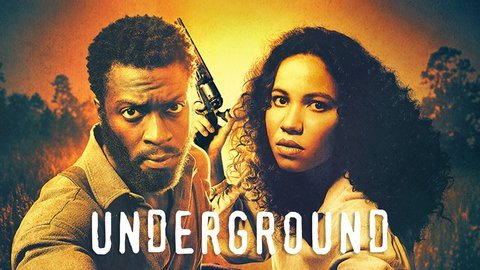 Powered by