'Underground' Season 2: Get Ready for Cato 2.0, Frederick Douglass and More Strong Women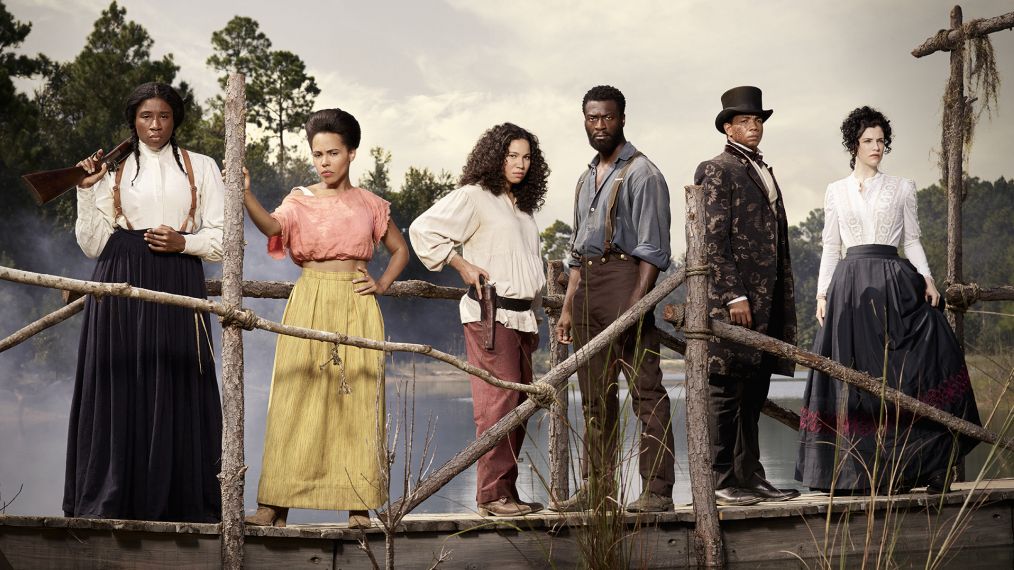 Misha Green knows a thing or two about what it takes to keep an audience entertained: you must have drama, empathetic characters, and heart. The former Sons of Anarchy writer's WGN America show Underground—which tells the story about a group of slaves and their journey through the Underground Railroad—has all three.
The drama series is back for its second season on March 8, and TV Insider sat down with the co-creator to discuss surprising moments in the new season, how she formed the Macon 7 and getting through gritty scenes from Season 1. Plus, Green spilled the beans on what fans can expect from Underground's turbulent Season 2 premiere. Spoiler alert: Things only get crazier for our protagonists.
How did the idea for Underground come about?
My sister was actually like, "You should do a show about the Underground Railroad." I never come up with good titles for shows, but I immediately said, "You know what would be a good title for that: Underground." I was really proud of that.
Did anything surprise you during your research for the show?
All of it did, because we think about this time period and how it's been depicted and usually you just see whipping posts and those doing the whipping. It was so much more complicated than that and there was so much more going on. Everywhere we turned reading about the Underground Railroad and the ingenuity people were using to escape 600 miles north was kind of like, "Whoa! How has no one told this story before?"
Were you nervous about how the show would be received? Even Snoop Dogg said he was tired of seeing black people as slaves.
I wasn't nervous about it, because I understood their fatigue of this story being told one way. We knew we were telling it in a new way, so I was excited! My whole response to that was, "Show up for the first episode and if you still feel like you don't want to watch another slave narrative, then I can't do anything." So, the nervousness wasn't there for me, because I was so excited about it and I'd been waiting to see this story told this way. Ultimately, I was hoping people would feel the same way about it and they did.
The series follows a specific group of slaves and their individual journey to an escape, which allows viewers to form personal connections with the characters. Was that your intention from the beginning?
Yes! We knew we wanted to start off with fictional characters, so we came up with the Macon 7. We wanted to incorporate a lot of the stories we'd been reading about. By starting the story off with fictional characters, it allowed people to really engage with them and then we'd follow those characters into Season 2 where we start to learn about the more historical figures of that time.
So the Macon 7 were based off of real events, but not real people?
Correct! We kind of cobbled together a lot of things. For instance, when Cato (Alano Miller) kicked out all the bottoms of the buckets on the plantation and then set the cotton fields on fire—that was an actual event that we read in the slave narratives. All of the stuff is kind of picked and pulled from real historical stuff. The amount of inaccurate events depicted on the show is less than the amount of fingers I have on my two hands. So, it's not specifically one person but it's all cobbled together.
Out of the Macon 7, which character was the easiest to create and who was more of a challenge?
I guess for me, the easiest to create was Rosalee (Jurnee Smollett-Bell). Once you've figured out that story of the person who isn't too afraid to step one foot off the plantation, run 600 miles and then come back to rescue others, that was pretty easy. You can always think about Rosalee in the house, being stifled in a way that women are stifled today, so that was the easiest one for me. The hardest one for me was Ernestine (Amirah Vann), because we tried to peel back those layers and not approach the woman who's sleeping with the Master the same way we've seen it depicted a million times. We really tried to uncover and understand what it took to be that person.
The scenes in the series can get a bit graphic, showcasing images of rape, beatings, humiliation and more. Do you remember a time on set where the cast needed to take a break because emotions were too high?
We always talk about self-care on our set, especially coming out of Season 1 and Season 2. Whenever there's a tough scene, I make sure I'm on set so that we can all feel comfortable. Anthony Hemingway, our director who was an executive producer for Season 2, is amazing as well at making things as comfortable as possible. I think creating that trust from day one, makes it easier to do those scenes.
Was there an episode that stood out to you in Season 1?
We rarely ever see children in this time period and we never take time with them, so with long-form TV we were able to go down these different routes. So we knew from the start that we wanted to an episode entirely from the children's perspective and that's how we came up with "Cradle." So, "Cradle" is definitely one that's close to my heart, because the young cast is so fantastic. The kids came out and killed it just like the rest of the cast.
In that very vein way, I'll go back and watch all the episodes and it gets hard to choose. There could be one scene that I absolutely love and then I'll go to the next episode and fall in love with another scene.
Fans are introduced to Harriet Tubman at the end of Season 1. Can you tell us about her role in the upcoming season and why you chose her?
I think my co-creator Joe Pokaski said it best: "You can't tell the story of the Underground Railroad without talking about the Superman of the movement." We always talked about Season 1 ending with Rosalee going to meet with Harriet Tubman to learn the ropes of how to be a conductor on the railroad. Coming into the new season, we're opening up more about the movement and really getting into the different thought processes surrounding it. It wasn't a single-minded movement. We definitely wanted to bring back William Still (Chris Chalk) from Season 1 and fans will also get to Frederick Douglass as well.
With Harriet Tubman, we tried to tackle this woman who is such a myth and you try to uncover the woman behind the myth. I think the more research we did on Harriet Tubman, the more mythical we found her to be. We were just like, "Oh my God, this is amazing!" Then Aisha Hinds came and killed her audition, so now I'm even more excited for people to Harriet in a long-form television series.
Why was it important for you to show the importance of women during that movement?
The people behind these movements were women. That's been shown throughout history, not just in today's time. The truth is women are badass! I just think the people who have been telling these stories are not the same people who have fought that truth. I follow the lead of the truth and women are the truth when it comes to these stories.
Cato is one complex character that struggles to open up. Will fans get to see him develop and learn more about his backstory?
Yes! Season 2, as Alano Miller has been calling it, is Cato 2.0. He's a man who has money now and a man who can make decision. As we all know, money means quite a bit in our society and he'll get to decide what type of man he wants to be by just trying to survive. I think whom he turns out to be will surprise everyone.
Rosalee and Noah don't have a conventional love story. What can you tell us about the inception and future of their relationship?
It all started with the gazes! In the beginning we talked about how difficult and important it was for love to thrive in these types of situations. I think one of the things that's so interesting about their relationship is they can't just be together in the beginning. It becomes a real struggle. Now, their whole relationship has been running 600 miles and what happens now that they're a part, as well as, what happens if they reunite. One of the things that the cast members constantly say about this show is: "No one can ever have nice things." I'm not going to confirm or deny that statement, but that's how they feel.
What can fans expect from Season 2?
We open up the world more. It gets bigger. It gets more explosive. In the opposite way, we dig into all of these characters we've known 10 episodes ago from Season 1 and begin to figure out what makes them take and what it takes to be a revolutionary.
Underground, Season premiere, March 8, 10/9c, WGN America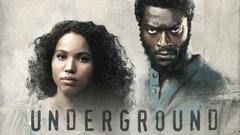 Powered by