'Underground' Preview: Patty Has Cato. Now What? (VIDEO)
Wednesday's Underground episode, '28,' marks steps backward for some of our favorites.
Literally for Noah (Aldis Hodge) and Rosalee (Jurnee Smollett-Bell), whose return to the Macon plantation in search of Ernestine (Amirah Vann) and James (Maceo Smedley) is fraught with surprises. And painfully for Cato (Alano Miller), who is suffering the aftermath of his shootout with Patty Cannon (Sadie Stratton, so good playing bad) and her crew.
Cato's immediate fate is agonizingly apparent in the episode's opening moments, which present yet another opportunity for Miller to show off the range of his acting chops. And if you find yourself recalculating Cato's good-versus-evil percentages every minute the guy's onscreen, ready your math skills. Because Devi (Rana Roy)—who delivers a humdinger of a personal assessment of her former man's nature—is caught is the middle as he and the merciless Patty negotiate the new terms of their power struggle.
Also in the episode, Ernestine's tutelage of the vengeful young Clara (Miller's wife DeWanda Wise, whose caramel eyes glitter with Clara's newfound power) takes a dangerous turn.
Underground, Wednesdays, 10/9c, WGN America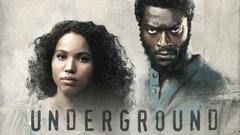 Powered by