Twister Alert! Disaster Threatens Cloud 9 in 'Superstore' Season 2 Finale
Take cover! Superstore's all-purpose retail mecca Cloud 9 and its inhabitants will be finding themselves all twisted up in the show's season ender.
While store manager Glenn (Mark McKinney) is struggling with the possibility of having to lay off some employees, a real and more immediate danger proves to be lurking outside. "There's a tornado warning," executive producer Justin Spitzer previews. "It's a big production. We're building toward stuff I've never seen a comedy [series] do."
Superstore has dropped hints about a potential natural disaster in a number of episodes this season, including Glenn's recent observation that Cloud 9 hadn't had a tornado drill in eight years. "It's exciting that a close watcher will pick up on little Easter eggs here and there," says Ben Feldman, who plays Jonah (above, with America Ferrera as his name-tag-recrafting cohort Amy). "One of the cool things about a full-season order and an early pickup [for Season 3] is the writers are really good at teasing themes and specific events in advance."
See Also
Series creator Justin Spitzer teases 'Mateo's Last Day.'
One of the show's long-running conflicts will also be addressed: Jonah and Amy, best known for their light bickering, have recently grown closer—especially in light of her spoken-of marriage troubles—and find their will-they-or-won't-they dynamic pushed to the forefront.
Spitzer, whose credentials include seven years working on The Office, shares that the writing staff has been careful about how they showcase the duo's relationship. "We never wanted to do too many Jonah and Amy episodes in a row, but never wanted to forget about them either," Spitzer says. "We wanted them to be getting along more." Will Jonah and Amy finally take a fateful step forward as more than inventory buddies? Teases Feldman: "It's a tremendously nuanced relationship, and it will continue to be."
Superstore, Season Finale, Thursday, May 4, 8:30/7:30c, NBC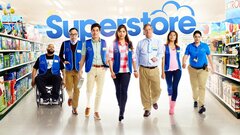 Powered by