'Superstore' Takes on Immigration; America Ferrera Makes Directorial Debut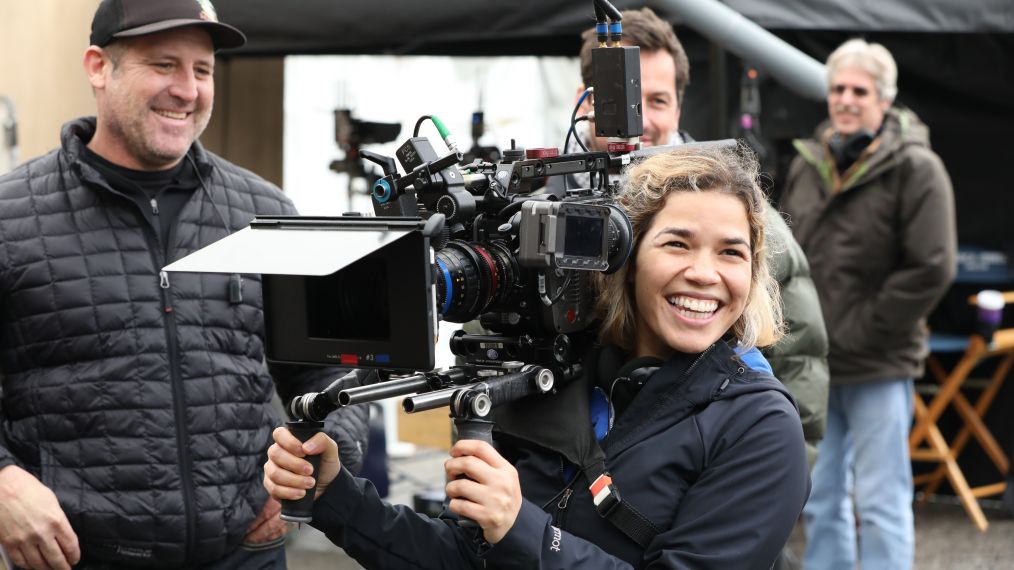 Superstore is diving back into timely issues.
The episode, "Mateo's Last Day," "deals with Mateo's undocumented status," series creator Justin Spitzer previews. "His relationship with Jeff has come out, so now he has to move to a different store. He's trying to figure out how to maneuver that, without having a green card or birth certificate. It's very dramatic. It's very real and heartfelt, I'd say."
"It's definitely drama the way Superstore does drama," America Ferrera, who plays Amy, adds. "It was a great performance episode for Nico [Santos], who plays Mateo, and an opportunity to sink into some real-life stuff, which we do often."
For Ferrera, the hour marks a milestone for her as well: Thursday's episode of the NBC comedy marks her television directorial debut. "It was fun to direct something that was more performance-driven," she says. "I felt very supported by everyone: the producers, the cast. I had a huge advantage in that I knew the show, I knew the crew, I knew our vibes on the set. It was great."
See Also
Season 3 of the hit comedy will feature 22 episodes.
To facilitate Ferrera's time directing, the writers minimized big group scenes and had Amy and Glenn (Mark McKinney) confront an angry Yelp reviewer. Unfortunately for Ferrera, the Amy plot had her dealing with numerous rabbits. "The days I was on camera which was hard enough because I had to be on camera and direct—we added 24 rabbits just for good measure," she says with a laugh. "I learned that day something I never knew: I am really afraid of rabbits."
"In the production meeting, someone mentioned we're going to have 24 rabbits," she continues. "And I was like, 'Huh! Well, OK, hadn't thought about that.' And I got in the room with the rabbits and I just freaked out. And it all happens on camera."
Spitzer praised his leading lady's first turn behind the camera, when it was all said and done: "The cut came in great. I often have a moment of panic with a new director when I sit down and watch that cut for the first time. This was just relief. Not because I was skeptical of America, but because I'm skeptical of every director. It was a great job."
Superstore, Thursdays, 8/7c, NBC