'Underground': Aisha Hinds Previews the Moving 'Minty' Episode
When Aisha Hinds signed on as Underground's Harriet Tubman, the WGN America series' writers Misha Green and Joe Pokaski mentioned the idea of a Tubman "TED Talk"—channeling the popular online lecture series—sometime during the show's second season. Hinds didn't quite get the idea.
And then it happened. On Wednesday's Underground episode—titled "Minty" after Tubman's childhood nickname—Hinds will deliver a tour de force, solo performance as Tubman makes a powerful, hourlong speech to a group of fellow abolitionists gathered in secret by Jessica DeGouw's Elizabeth Hawkes.
In other words, an 1850s, low-tech TED Talk on steroids.
"They mentioned the words 'TED Talk,' but it didn't register to me that I would have to take on the task of memorizing 45 pages of dialogue," says Hinds with a laugh. "Actually execute a TED Talk, and do so on behalf of Harriet Tubman—which I have now coined the 'Tub Talk.' It didn't register because I, one, was not used to watching television in this way. And two, I never thought that anyone would ever try to make anyone watch television in that way.
"They kept saying 'for your episode…it'll be your episode,' but in my mind, I thought 'your episode' meant it'll be heavy on Harriet's storyline, but there'll be other characters, or maybe some flashback things," Hinds continues. "Once I realized that they literally meant a TED Talk and that I literally would be talking the entire episode, I was excited for the challenge because what it sounded like was a one-woman production. It sounded like theater, which is my first love."
Still, Hinds wondered if a TV audience used to splashy effects, wham-bam storylines and even Underground's own harrowing action sequences, would embrace an entire hour of Tubman sharing her experiences, her views, her mission. And if she herself would be able to pull off the oration in a way that would make viewers forget the clock, their phones and tablets, and other trappings of modern viewing.
"This is the first time Joe and Misha have ever written a one-woman show, and this is the first time our EP and director Anthony Hemingway has ever directed a one-person show, and this is the first time Aisha Hinds has ever done a one-woman show," she exclaims. "We're all approaching territory that we had never traversed before in our lives, never, ever, ever."
The combination of Pokaski and Green's utter devotion to their subject matter and Hinds' own extraordinary connection to Tubman turns "Minty" into a singular hour of television, movingly weaving Tubman's backstory, by turns rending and uplifting, with timeless words of self-empowerment that double as a modern-day call to action. The final moments of the episode are especially unforgettable.
Given that she alone would be carrying 60 minutes of television, and recalling her theater background, Hinds assumed she would get the "Minty" script months before it filmed. Instead, she learned that Pokaski and Green penned the episodes in the order they would be produced—and that "Minty" would be the final Season 2 episode filmed, in part so Hinds' pregnant costar Jurnee Smollett-Bell (the also-pregnant Rosalee) could film rigorous episodes early.
"My episode was saved for the last three days of production—which was also a revelation because I thought that I would have the standard eight days to shoot that I'm used to," Hinds reveals. "I didn't know that I would have three days to shoot. I didn't know that I would get half the script 10 days before and the other half seven days before."
Justifiably worried, Hinds reached out to a trusted college professor. "I'm like, 'Is it possible to memorize 45 pages in a week?'" she recalls. "He wrote back two words in an e-mail: 'Not possible.'" Then came another message: "But get to work, Harriet Tubman."
So Hinds got to work, tapping a longtime friend to help her run lines and using every tool she could think of to keep Tubman's words in her head and deliver them with the power and impact that Tubman's legacy deserved. Eventually, she realized she had everything she needed—her cell-deep affinity for Harriet.
"That's when it became really, really a reverential experience for me," says Hinds, who is waiting to view the entire episode along with the Underground audience. "I need to surrender to telling her story the way that she told her story. She really moved me out of the way. Her spirit consumed me to the point where I, Aisha, was reduced to just basic blinks and breath. Everything else, she just consumed me and used my vessel to tell her story.
"She used my voice. There's no one who can take the credit besides Harriet. It wasn't a teleprompter that helped me. It wasn't an earpiece that helped me. It wasn't an extensive rehearsal period that helped me. It wasn't even my own craft that helped me, because I didn't have time to be an actor. It was only to empty myself, to surrender to her story and allow her to inhabit me and push her story out of my voice box. That is what happened."
Hinds adds that the emotion and drive moved through everyone on the "Minty" set—even though actors and crew alike were exhausted from a season challenged by mentally and physically rigorous storylines, heat, mosquitos and hurricane-like storms.
"Everyone was functioning from a place that they had never traveled before, which was so much a part of the beauty of it all," Hinds reflects, "because it speaks to the spirit of Harriet Tubman, who was born into slavery and never had a context for freedom.
"She never knew what freedom was, but she was willing to step foot off of that plantation and just continue to put one foot in front of the other until she arrived at the threshold of freedom. She didn't know where she was going, she didn't know what to expect, but she went anyway—and that, I feel, was what we were collectively all stepping into, a terrain that we had no idea about. A terrain that we are challenging audiences to now travel with us."
Then the actress is overcome by emotion.
"I feel like she knew that such a time as this was necessary for her to revisit us," Hinds says. "I feel like she chose us to tell her story. She chose me as a vessel to come through, and I'm beyond honored. I'm a hot, emotional mess!
"We're speaking to Harriet's audience and we're speaking to the world, to anyone who will hear, anyone who will listen, to activate and to be engaged and to move with a sense of responsibility that is bigger than oneself. Which was a place that Harriet had to come to even within herself—because her journey initially started out being singularly concerned for her family and expanded to freeing whoever wanted to be free. I think that is our individual responsibility, to extend our arms to others and extend the real estate in our heart to include people beyond our family, to include a world beyond our family, and to take ownership and responsibility for our entire world."
Underground: "Minty," Wednesday, April 12, 8/7c (special earlier time), WGN America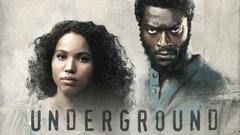 Powered by