'Underground': Aisha Hinds Goes Solo in Special Episode
WGN America has announced that Underground Season 2's sixth episode, which airs April 12, will focus entirely on Aisha Hinds as Harriet Tubman, the revolutionary abolitionist who was born Araminta "Minty" Ross.
"When introducing someone as iconic as Harriet Tubman, we felt compelled to attempt an episode as revolutionary as her spirit," said Underground creators, writers and executive producers Misha Green and Joe Pokaski in the network's announcement of episode, titled "Minty."
"When we learned through research that in 1858 she began to give talks about her life to like-minded abolitionists to raise money for the cause, we knew we had our in—A 'Ted Talk' with Harriet Tubman. Our amazing crew, led by our director/executive producer Anthony Hemingway, set a beautiful stage for Aisha Hinds' powerhouse performance. We can only hope we did Araminta 'Minty' Ross proud."
See Also
"I'm standing in this posture of reverence to her, feeling completely inadequate—that I'm not able to do justice to serve her, to embody her,
"Aisha surrenders herself to the spirit of Harriet Tubman and gracefully reintroduces us to Harriet's humanity by sharing her story, in a chillingly exceptional performance," said Hemingway in the same announcement.
"Playing Harriet Tubman is both a great honor and also a tremendous call to duty as we examine how familiar the pain of our past can be felt in the present," Hinds added. "In sight of and in spite of the overwhelming obstacles stacked against her, Harriet transcended bondage and inspired generations in the pursuit of liberty."
In the extended episode cowritten by Green and Pokaski, Hinds' Tubman delivers a monumental speech about her life, her divine purpose and the perilous but necessary fight for freedom, making a passionate plea to abolitionists to shift their thinking, challenging them to take swift action against those who are determined to oppress others.
Underground: "Minty," Wednesday, April 12, 8/7c, WGN America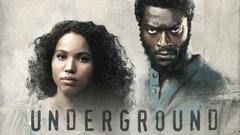 Powered by