'Underground': Aisha Hinds Says Playing Harriet Tubman 'Elevates Me'
Last week, Underground fans got their first taste of former Under the Dome star Aisha Hinds as famed abolitionist Harriet Tubman, who is teaching an already emboldened Rosalee (Jurnee Smollett-Bell) a thing or two about the price and pursuit of freedom. And in the process, offering the show's devoted fan base a living, breathing tribute to Tubman's heart, resourcefulness and courage that dusty history books couldn't possibly convey.
Hinds tells TV Insider that signing on as the iconic freedom fighter proved intimidating, then life-changing as she realized it was maybe meant to be. "I'm standing in this posture of reverence to her, feeling completely inadequate—that I'm not able to do justice to serve her, to embody her," Hinds recalls of learning she'd play the pivotal role. "The funny thing is, as I look back retrospectively over the journey, I feel like Harriet Tubman's spirit consumed my space before this even came to me. This whole experience elevated me in areas unimaginable. It elevated me in my spiritual life. It elevated me mentally and emotionally—because essentially, she had already done the work. … [I am] in service to the work that she had already done."
And so, Hinds hopes viewers are as inspired as she is by Tubman's innate ability to turn the world around her (and her unwavering trust in God) into a vast toolbox to serve the Underground Railroad. Especially now that notorious slave trader Patty Cannon (Sadie Stratton) is on her trail as Season 2 unfolds.
See Also
Oscar and Grammy winner John Legend talks about the daunting task of playing historical giant Frederick Douglass in WGN America's 'Underground.'
"Harriet didn't have a degree in botany or theology or astrology and yet she was able to read the stars in order to chart her course," Hinds reflects. "She was able to read her environment and observe plant life to know what trees would lead her to what paths. To chart a path from the South to the North that she had never taken before. She had never stepped foot off of the plantation and she was able to do this! She was able to tap into a theology that wasn't informed by reading the Bible, because she could not even read. And she was able to do all of these things with another incredible obstacle in her way. She'd been hit in the head when she was young, and so she suffered from spells and she suffered from narcolepsy. She traveled by night deliberately because she felt safer that way.
"That level of bravery, I don't have access to," Hinds continues. "That level of courage and determination, I don't have access to—but she believed that she was hearing from God. Having never read a single word of the Bible, she tapped into a level of faith that I have no reference for. So when I think of that person—and I think of the depth and the details that this second season really reveals to people—it is such a necessary thing for audiences to hear."
Especially, Hinds says, as a younger generation finds its way in a new age of dramatic social and political turmoil.
"I know for a fact," she says, "that there are many Harriet Tubmans littered throughout this country that need to inspire and to awaken—so that we can move through the obstacles that we have for this time period."
Check out this clip from Wednesday's all-new episode of Underground, as Rosalee is saved by her mentor's words.
Underground, Wednesday, 10/9c, WGN America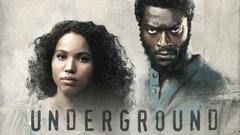 Powered by