WonderCon 2017: 'Midnight, Texas' Creator/Cast Preview Adapting Charlaine Harris's Books
The audience at WonderCon 2017 that showed up for a screening of the premiere episode of NBC's upcoming supernatural drama, Midnight, Texas, were enthusiastic about the latest TV adaptation from author Charlaine Harris (True Blood). Though the series doesn't premiere until July 24, the cast, along with show creator/executive producer Monica Owusu-Breen, talked excitedly about what we'll see in the series.
Besides Owusu-Breen, cast members on the panel were Francois Arnaud (Manfred), Sarah Ramos (Creek), Arielle Kebbel (Olivia), Dylan Bruce (Bobo), Parisa Fitz-Henley (Fiji) and Jason Lewis (Joe). The series is based on Harris's three Midnight, Texas books: Midnight Crossroad, Day Shift and Night Shift.
See Also
Returning hits 'American Ninja Warrior' and 'The Wall,' along with new series 'Midnight, Texas' and 'Marlon,' are also part of NBC's busy summer schedule.
In the opening of the series, we see early on that psychic Manfred Bernardo (Arnaud) has some real abilities into seeing other-worldly beings, but he also has some bad dudes chasing him, so, on the advice of his dead grandmother (who he can actually see, of course), he ends up in Midnight, Texas, where everyone has as many secrets as they do supernatural powers.
"I thought there were so many different ways to go with it," said Arnaud of his character when he first read the pilot script. "He was sort of the hero, or going to be, but it also intensifies. He's a bit of a loser!"
Ramos, who was a cast member on the family drama Parenthood, added that she marveled at the grounded feeling that Midnight, Texas also has despite its roots in the supernatural/horror genre. "Monica grounded all of the scenes in the character dynamics and the emotional storylines are always underneath," she said.
See Also
The cast and crew previewed difficult scenes and what drives the characters.
The cast's fun camaraderie during the panel began on the Albuquerque, New Mexico, set during filming the show's first season, and Owusu-Breen shared that being a witness to their bonding helped her shape the characters they were playing in the new series. "It's a fantastic group," she said. "So much of their characters are parts of who they are and their relationships are so interesting to watch so as a writer it's so lovely that they all get along and they're all friends and they're all quirky in their own ways."
A fan question during the panel pointed out that elements that come later in Harris's books were evident in the pilot episode, and Owusu-Breen explained her thinking behind not following the books exactly. "My first attempt to adapt [the books], I played a little closer to the vest with things," she said. "Ultimately, television is a beast that needs story, and to know Joe is an angel doesn't even begin to scratch the surface of who he is or what brought him to town, so there's still a million mysteries.
"In a weird way, what we ultimately came to decide is to let the audience know who they are and ask questions about that. Because the great thing about the characters Charlaine came up with is it's not their powers that make them interesting. They're interesting and they have powers."
Midnight, Texas premieres July 24 at 10/9c on NBC.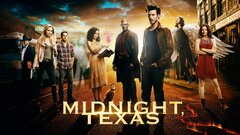 Powered by