Samantha Bee Goes Deep on the 'Deep State' (VIDEO)
On Wednesday's Full Frontal With Samantha Bee, TimeOut New York's Woman of the Year Samantha Bee took a deep dive into the latest far left conspiracy theory that is obsessing the Trump administration: the Deep State.
Bee's deep thoughts on the supposed network of career bureaucrats in Washington who are attempting to undermine Trump's presidency: "The Deep State is like polio: It exists, just not in America right now." What Fox News call the Deep State, Bee points out, is just government employees doing their jobs—jobs that Trump could have his own people doing if he'd ever get around to filling the nearly 2,000 federal positions he has left vacant. Bee is typically poetic when she describes the leaks coming out of the administration as "the phlegm of democracy," a sign that something is very wrong.
Check out the clip:
Full Frontal With Samantha Bee, new episodes Wednesdays, 10:30/9:30c, TBS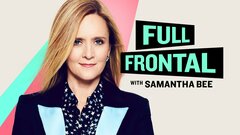 Powered by