Hell Yeah! 'Lucifer' Renewed for Season 3
Don't you just love when your deepest desires are actually granted?
Fox just announced that Lucifer, their increasingly entertaining and twisty cop drama based on the Vertigo Comics character, will rise again for a third season of 22 episodes. Can we get an "Amen"? Or whatever fallen angels say?
Noting that the sophomore season "keeps getting better and better," Fox's Entertainment president David Madden says he is excited to see "where this wildly innovative series takes us in Season 3." He also heaps praise on the network partners Warner Bros. for their commitment to the show, the cast for making "these characters three-dimensional" and the production team for being "one of the best in the business."
See Also
It's a miracle! The devilish dude is getting
That's a smart devil, right there.
Lucifer returns from its spring break on Monday, May 1 at 9/8c, Fox. And if you want to catch up, episodes are available on FoxNow.com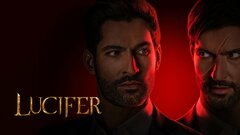 Lucifer
where to stream
Powered by