'Lucifer' Scoop! Are Chloe and Luci Going "There"?
Lucifer is back, and even though it's only for a short spell, it's gonna be hella fun!
"We have three episodes and then we're off again until May 1st, " says showrunner Joe Henderson, adding that the writers decided to use the chance to "shape a big climactic, beginning-middle-and end event" centered on the winter-finale reveal that Chloe (Lauren German) is a living miracle, just as she and Lucifer (Tom Ellis) were thisclose to a kiss.
"This three-parter is exploring what Chloe's [miraculous conception] means and how it affects our characters," continues Henderson. "It's a bigger arc than we've ever done, it's special, a lot of big things happen and we will end on another huge cliffhanger-y moment that will lead us into the season's final episodes."
While Lucifer stepping aside to make room for techy cop-drama APB (lead-in Gotham also takes a seat for the 24: Legacy's run) means fans won't see what's next until spring, Henderson promises that the three-parter will give them enough juicy developments to make the wait worth it.
"We answer the 'will they, won't they?' in the first episode back," he confirms. "Let's say that there is a scene between Lucifer and Chloe that is very hot and steamy…….we will see the two of them get the closest they have ever been."
Lucifer, Mondays, 9/8c, Fox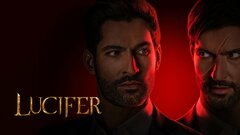 Lucifer
where to stream
Powered by