'Santa Clarita Diet' Star Drew Barrymore Didn't Know What 'Netflix and Chill' Meant
At Netflix press event in New York City on Wednesday, Drew Barrymore admitted something pretty surprising while promoting her new comedy series Santa Clarita Diet: Prior to the show, she didn't understand the meaning of "Netflix and chill."
"I didn't know what Netflix and chill was…because again being a child of the '70s and the '80s, 'chill' was like, relaxing, but apparently 'chill' is not relaxing," Barrymore joked. "And so that was news to me. I was like, oh, [laughs] that's what they mean?"
See Also
'Travelers' returns; 'Bill Nye Saves the World' starting in April; 'Grace and Frankie' Season 3; and more!
Luckily, Barrymore takes her lack of knowledge in stride. "I guess I'm just an uptight 42-year-old single mom now; I didn't know that chilling was, you know," she said with a suggestive wink toward the audience.
Now you know, Drew! Though, of course, her Santa Clarita Diet character Sheila and co-star Timothy Olyphant's Joel weren't really the "Netflix and chill" type. "I pitched 'Netflix & Kill' as like a promotional thing [to Netflix] and they didn't want to do it because it's not responsible, and I get that," Barrymore laughed.
Santa Clarita Diet is currently streaming on Netflix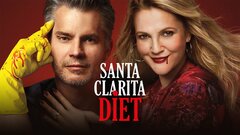 Powered by