Roush Review: The Yummy Tastelessness of 'Santa Clarita Diet'
Bet you can't eat—make that watch—just one.
True, the grisly premise of Santa Clarita Diet may be hard to stomach, with adorable Drew Barrymore playing Sheila, a married suburban real-estate agent who develops a craving to devour her neighbors. But the show's hilarious screwball spirit is so infectiously appealing, even at its most appalling, that all 10 episodes fly by in a wacky, icky rush.
It's the breeziest binge since Stranger Things—even if it is hard to imagine anything stranger than creator Victor Fresco's exuberant concoction of gore-splattered slapstick. Occasional entrails aside, this Diet is a welcome antidote to the darkness that defines so much TV. Think of this as The Laughing Dead, because the ironic upside of Sheila's unexplained transition is that by being undead, she finally learns to live with gusto, minus inhibitions or filters. All of which baffles, confounds and somehow delights her loyal husband, Joel, brilliantly played by Timothy Olyphant with a sheepish grin to mask his squeamishness.
RELATED: Santa Clarita Diet The Couple That Slays Together Stays Together?
"I am so glad this is not one of those diseases that dries your skin out," observes Sheila in a typically blithe, matter-of-fact remark. "Yeah, that would be the worst," Joel responds wryly.
Even as the complications grow more extreme, with Joel accepting his role as provider and accomplice to replenish his beloved's food supply, the show's sweetly savage tone rarely wavers. Its comedic confidence reminds me of last summer's alien-invasion political satire BrainDead, which if it had premiered on trendy Netflix instead of CBS might have been celebrated instead of ignored. But enough bitterness.
RELATED: Roush Review: A Tamed Training Day Workplace Comedy in Superior Donuts, Powerless
This show emphasizes the upbeat, even shirking the word zombie as "inherently negative," according to nerdy neighbor Eric (Skyler Gisondo), whose crush on the couple's unflappable daughter, Abby (Liv Hewson), is among Diet's most enjoyable subplots. Confession: How I yearned for The Walking Dead's tiresome villain Negan to drop by for a visit. Though Sheila can be a picky eater and would probably spit him out.
Santa Clarita Diet, Series premiere, Friday, Feb. 3, Netflix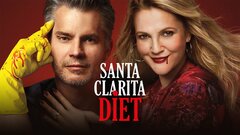 Powered by