'Santa Clarita Diet': The Couple That Slays Together Stays Together?
Let's assume you'd do anything for your spouse. Take a bullet for her? Check. Save her cat from a burning building? Check. But would you help her kill and eat another human being?
What if we told you that doing so would also spice up your marriage? Like, a lot. That's the conceit behind Netflix's new sitcom Santa Clarita Diet. Longtime husband and wife Joel and Sheila Hammond (Timothy Olyphant and Drew Barrymore) are living out a pleasing, if staid, existence in Santa Clarita, California. They have a 15-year-old daughter, Abby (Liv Hewson). They work together as real estate agents, selling overpriced Spanish revivals to yuppies. Sheila wishes she could be bolder, but she can't even say yes to bar nights out with the girls. Joel worries about the faulty dial on their toaster.
RELATED: Netflix: What's Coming and Going in February 2017
Then Sheila suddenly gets sick in one of their sale properties and dies—only to mysteriously come back to life. She is now braver and brighter. She connects better with Abby and gets friskier with Joel. There's just one catch: She has to eat people to survive. And Joel isn't about to let his wife starve. "Basically, it's a show about a marriage, and I'm playing a guy who's doing everything he can to protect and provide for his wife and keep his family together," says Olyphant (Justified). "I'm pretty sure Joel's going crazy. But I'm also confident this is the feel-good comedy of the year."
So, the couple devises a plan to kill only bad people—and they've lots of bodies to choose from: The series is stuffed full of guest stars, including Nathan Fillion, Portia De Rossi, Patton Oswalt and Andy Richter. (We won't reveal who ends up in the Hammonds' freezer, but we will say that dried apples, tuna and expertly designed cake all subbed for their entrails on screen.)
Joel and Sheila's intrepid teamwork was one of the things that brought Barrymore—who hasn't headlined a series since 1992's 2000 Malibu Road—back to TV. (She also has an Ellen DeGeneres–produced syndicated talk show in the works for later this year.) "To me, that's romance," Barrymore says. "Sheila and Joel are faced with a really crazy situation. They find a way to get through it as partners. Most couples break under that kind of pressure."
RELATED: Looking for New Shows to Binge? Check Out These Streaming Shows
Barrymore, however, almost did break (her bones, that is) on the set thanks to Sheila's habit of going in for the kill by vaulting onto her prey's back. "The actor I was jumping on wasn't ready for it, and I fell. It was really scary," says the 41-year-old actress, who spent two days in the hospital as a result. "Then, by the end of the shoot, I was feeling invincible." She nearly was: To show Sheila's transition from buttoned-up to brassy, the actress lost 20 pounds during filming and lightened her hair. "I was so physically fit, everyone was telling me to back off the stunts," she says, "but something happens when you get into your strong and happy place. You're different." Kind of like Sheila.
But is all that change good for the duo? "There's a metaphor here about our narcissistic culture," says creator Victor Fresco (My Name Is Earl). "We assume it's good to feel empowered and like we're not putting everyone's needs above ours. Sheila's new uninhibited id makes her want all her needs met: Like eating people. Zombies are the ultimate narcissists!"
Santa Clarita Diet, Series Premiere, Friday, Feb. 3, Netflix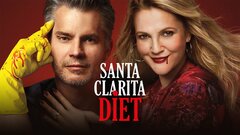 Powered by