Samantha Bee Brings Old Friend on Ride to 'Full Frontal' Success
Johnny Carson had Ed McMahon. For Conan O'Brien, backup came in the form of mischievous sidekick Andy Richter. And David Letterman regularly used band leader Paul Shaffer as a foil.
But for Samantha Bee, feisty host of the TBS satirical late-night news show Full Frontal, it's her best friend who has stepped out of the shadows to steal some of the limelight—and kudos. Allana Harkin has been close to Bee since the two women toured their native Canada as part of a comedy troupe called The Atomic Fireballs in the late 1990s.
See Also
The late-night host school's both Trump and the kids at home on the difference between immigrants and refugees.
After Bee departed Jon Stewart's The Daily Show to helm her self-titled gig, she called on her old buddy Harkin to join her as a correspondent—and it's been a win for both of them. With the weekly series now in its second season, it regularly bests Daily's ratings.
The show's growing audience is loving the way Bee's poker-faced field reporter wades into the fray for the sake of a laugh and a lesson. Harkin acknowledges her success is due to Bee "pushing me to do things I hadn't planned on doing as a comedian."
Take, for example, holstering up. "I just did a piece about Safe Guns—they've got fingerprint technology—so I went to a gun range, shot a gun and I ended up being a pretty good shot," Harkin says. "The man next to me was probably in his early 70s, and he goes to the range every Saturday morning. He said, 'I'm so excited when I see a young woman like yourself excited about shooting a gun for the first time. Is this going to be a new thing for you?' I said, 'I will never, ever do this again.'"
See Also
While we all have Russia on the brain, Congress is having a field day with the Congressional Review Act.
With America and its TV-news outlets more polarized than ever, Harkin says the Bee team's philosophy on which topics to tackle is simple. "It really is, 'What is Sam most passionate about? What's the real story here?'" The final checkbox: Can they spike the story with a potent dose of fun?
"If you're a viewer watching our show, you know you're going to get the news—and you know you're going to laugh," Harkin says. "People need that right now, and I think it's a really special way to communicate."
Being BFFs has other advantages. "I'm there for when Sam needs to decompress," says Harkin. "I'm her port of call."
Full Frontal With Samantha Bee, Wednesdays, 10:30/9:30c, TBS, @FullFrontalSamB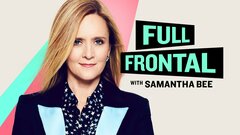 Powered by