Amazon Renews 'Sneaky Pete' for Season 2
Well it looks like Bryan Cranston won't be taking a break from being bad anytime soon. As co-creator of the new Amazon series Sneaky Pete, it seems the former Breaking Bad star has found the recipe for success.
Amazon announced Thursday the drama will be back for a second season. The announcement comes less than a week after its January 13 debut. The 10-episode first season ranked as the streaming service's second-highest first-day viewership for an original series just behind The Man in the High Castle.
The series stars Giovanni Ribisi who plays a con-man looking to escape the clutches of a gangster by taking on the identity of his former prison mate, Pete. As he assumes the role of Pete, he learns to get along with Pete's family while also trying to avoid trouble.
Cranston, who co-created the show, also co-produces directs and acts in it. Margo Martindale (The Americans) also stars in the series.
Sneaky Pete, Now streaming, Amazon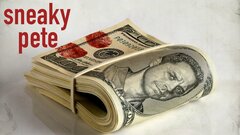 Powered by