'Sneaky Pete' Boss Graham Yost on the New Amazon Drama
Talk about a pedigree! Sneaky Pete, Amazon's new show about an identity-stealing con artist was created by multi-Emmy winner Breaking Bad's Bryan Cranston and House's Emmy-winning creator David Shore for CBS. When CBS passed, Amazon picked it up, Shore left and Justified's Graham Yost took up the mantle, changing a broadcast network "NCIS-type" procedural into edgier streaming fare.
Sneaky Pete, reportedly Cranston's childhood nickname, stars Giovanni Ribisi as Marius, a con man who learns from his hapless younger brother Eddie (Michael Drayer) as he's about to be released from a stint in jail that the crime boss (Bryan Cranston, whose original cameo became a major role in the first season) he owes a bushel of money to wants it back as soon as he's out. If not, violence will ensue.
RELATED: There Will Be a Whole Lot of Bryan Cranston on Amazon's Sneaky Pete
He decides to go on the lam and assume the identity of Pete, his cellmate who never shut up about his idyllic extended family in "the bond business", whom he hadn't seen since he was 12 years old. Sounds like a family ripe for picking while he hides out. Of course in a show all about the con, nothing is as it seems.
Margo Martindale (who worked with Yost on Justify and The Americans) and Peter Gerety play Pete's grandparents and Marin Ireland, Shane McRae and Libe Barer his cousins.
Before Yost gives us a sneak peek at Sneaky Pete, here's an exclusive clip from the second episode, with Giovanni Ribisi as Marius/Pete and Margo Martindale as Grandma Audrey. In the clip, Pete agrees to help out the family's struggling bail bonds business. The show will begin streaming on Amazon Prime Video on Friday, Jan. 13.
How did you get involved with Sneaky Pete?
After Amazon streamed a redone pilot and it did very well with viewers, Sony and Bryan approached me. I watched it and I thought working with such an amazing cast could be a lot of fun. A big attraction was working with Bryan Cranston again. We had worked together on From the Earth to the Moon; he played Buzz Aldrin. We've remained friends all these years. In many ways everyone involved was kind of relieved that it didn't work on CBS, because they felt like the show could be less of an episodic case of the week thing and more of a larger serialized story. That became very appealing to Bryan and his partner James Degus and frankly Sony and Amazon, too. But the other thing is that part of the re-shoots to get Amazon interested was to have Bryan play the bad guy of the season. The big bad Vince. That was a smart move; it gave a focus to the season. It's so much fun to watch him work. He's also directing an episode this year.
Tell us more about Vince.
He's an ex-NYPD cop and after 20 years he left and opened an illegal poker ring that's lavish and high-end. You get the sense that there was a slide into darkness that happened over time. It's a very different character than Walter White. In the second episode we find out what happened three years before that put Marius in jail and why, and why he owes Vince a hundred thousand dollars. That's where we set the stage for the series.
So there's two stories going on?
Yes. One involves Vince, Marius and Eddie, and the other takes place with the family Vince convinces that he's a part of.
What are the themes that play out in the show?
It is a show about identity; a show about the secrets we have and keep from other people. Who is the authentic self? That's really in high relief with someone like Marius, who's essentially a lifelong con man. Who is he at his core? He's had to have all these identities to survive as a kid and now it's getting a little old, but you discover in the pilot that if he doesn't come up with the money fast, his younger brother will be in terrible trouble. The family also has their secrets. Being in the bail bonds business they're adjacent to crime and that ends up being part of what their secrets are about. Audrey has a big secret she's keeping from her husband and the rest of the family and that becomes fun to play.
Where does Marin Ireland fit in?
She's Julia, who has a fraught relationship with her grandmother. She's foundered a bit. She's a single mom, had two kids with two different guys, the last one being Lance, played by Jacob Pitts. She isn't the best at the bail bonds business, but there's a story involving her and Lance that turns her life around and she finds some steel in her spine. Marin is just one of these great actresses.
Is she someone whom Marius, who's not really her relative of course, might fall for?
You've got to walk that line. He's very attracted to her in the pilot and she's attracted to him, but especially for her it's weird and icky, but for him even though it isn't, he has to play that it is. There is, however, always that spark and chemistry. We didn't want to play it too hard in this first season. We wanted to give ourselves some place to go if there's more.
RELATED: Goliath: Billy Bob Thornton and David E. Kelley Team for Legal Thriller on Amazon
Say a few words about the tone. There are some Justified chords here, aren't there?
A lot of the writing staff worked together on Justified, so we look for that dark humor, the little twisted things. But as the season goes on and Marius's predicament gets even more dramatic the humor gets a little tenser. But keep in mind that it is about con artists and we never lose sight of that. There's the element of who's fooling who. What game is being played between these characters? We look to the great con stories like The Sting. We want it to be an entertaining show with characters with some depth and intrigue that pull you in because you're trying to understand who they are.
Sneaky Pete, Series premiere, Friday, Jan. 13, Amazon Prime Video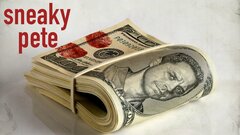 Powered by