'The Neighborhood': D.L. Hughley Helps Calvin & Malcolm With Their Business in Finale First Look (VIDEO)
D.L. Hughley is coming to The Neighborhood in an exclusive sneak peek clip from the show's upcoming Season 5 finale episode, "Welcome to Opening Night" airing Monday, May 22.
In the first look, above, Calvin (Cedric the Entertainer) and Malcolm (Sheaun McKinney) are guests on Hughley's radio show and offer free servicing of the comedian's car in exchange for promotion of their new business through his celebrity endorsement. Needless to say, things get a little off track during the chat as Malcolm brings the conversation back to the moment he heard Hughley needed help with his vehicle.
Unamused with the long-winded explanation, Calvin takes over the conversation, saying, "Anyway we heard that you were having problems getting your EV serviced. So, just here to tell you that I can fix it, and I'll do it for free."
"You said, free?" Hughley says in disbelief, adding, "Free is my favorite word."
The offer pushes Hughley to ask the men about their business as Calvin explains they own Fuse Box EV Solutions. Wishing to provide as many details as possible Calvin tries telling listeners of Hughley's radio show about where to find it. Will Hughley make his appointment with the father-son business team or will there be trouble? See the full scene unfold, above.
Among other moments to look forward to in the season finale is the return of Dave's (Max Greenfield) father Lamar (Kevin Pollak) who makes another guest appearance in this episode. Catch Hughley, Pollak, and the rest of The Neighborhood's cast when the Season 5 finale airs Monday.
The Neighborhood, Season 5 Finale, Monday, May 22, 8/7c, CBS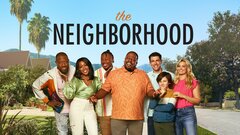 Powered by