'Pennyworth' Canceled After 3 Seasons at HBO Max
Another DC Universe series bites the dust at HBO Max, in what has been a sweeping week for cancellations by the network. Pennyworth: The Origin of Batman's Butler will not return for a fourth season.
This follows last Wednesday's cancellation of Titans and Doom Patrol by HBO, leaving all their live-action DC Comics-based original series officially killed off.
HBO Max released a statement about the cancellation on Wednesday, stating:
"While HBO Max is not moving forward with another season of Pennyworth: The Origin of Batman's Butler, we are very thankful to creator Bruno Heller and executive producers Matthew Patnick, Danny Cannon and John Stephens, along with Warner Bros. Television, for their brilliant, unique, gripping depiction of the origin of Alfred Pennyworth, one of the most iconic characters in the Batman world. An incredible blend of action, drama and humor, for three seasons, Pennyworth: The Origin of Batman's Butler has taken fans on a mind-bending ride into Alfred's eccentric world and the beginnings of cutting-edge super heroes and super villains."
In the series, Jack Bannon plays everyone's favorite butler in his origin story as Bruce Wayne's father's assistant, Alfred Pennyworth.
The news also comes just one day after new DC Studios chiefs James Gunn and Peter Safran revealed their vision for a more unified DC Universe—including five new series and five films:
Here are just a few of our plans. Up, up, and away! #DCStudios #DCU @DCComics pic.twitter.com/8XNDNLUEPq

— James Gunn (@JamesGunn) January 31, 2023
Their plan is to keep the entire DC Universe connected, much like the Marvel Universe already is—with the same actors playing the same role across films and series. Gunn noted that when projects fall outside that scope, they will be clearly noted as outside the DCU to avoid the disconnect that has been present throughout the DC world until now.
Pennyworth: The Origin of Batman's Butler, Streaming Now, HBO Max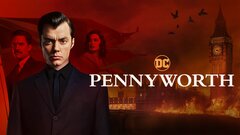 Powered by