'Titans' & 'Doom Patrol' Canceled at HBO Max
The DC Universe continues to shrink, as continued cuts from the shakeup at HBO Max are revealed. The latest? Titans and Doom Patrol, which we're now finding out are airing their final seasons.
According to The Hollywood Reporter, the news wasn't shocking to the producers on both shows, as everyone saw the writing on the wall when James Gunn and Peter Safran were brought in to reinvigorate the DC franchise. But the source notes that the decision to end both Greg Berlanti produced series came before the duo arrived.
Knowing what was coming, the writers shaped the final season arcs so their characters could have a proper ending at the end of Season 4.
"While these will be the final seasons of Titans and Doom Patrol, we are very proud of these series and excited for fans to see their climactic endings. We are grateful to Berlanti Productions and Warner Bros. Television for making such thrilling, action-packed, heartfelt series," an HBO Max spokesperson said in a statement to THR. "For four seasons, fans have fallen in love with the Titans and Doom Patrol, investing in their trials and tribulations, and in their legendary battles saving the world time and time again."
Titans exec producer Greg Walker also gave a statement thanking his team and the fans.
"I'm immensely proud of our gifted cast, crew and writing staff and their efforts in bringing to life all 49 episodes over the last five-plus years," he said. "I have to thank our incredible fans for their continued support, engagement, and the passionate community they've built around our show. We have six episodes left to unleash upon the world that we hope will give our beloved characters the creative closure we all know they deserve."
Doom Patrol showrunner Jeremy Carver also thanked his team.
"To our wonderfully supportive partners at HBO Max, Warner Bros. Television, Berlanti Productions, and DC Studios, thank you for indulging us these past four seasons," he said. "Also, what were you smoking? To our brilliant cast, indomitable crew, fearless writing staff and, most of all, to our beautiful fans: thank you all the more. You made this a once-in-a-lifetime ride."
Titans, Season 4, Thursdays, HBO Max
Doom Patrol, Season 4, Thursdays, HBO Max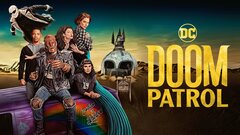 Powered by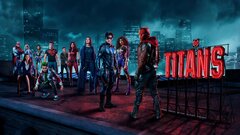 Powered by