'Dr. Phil' Talk Show to End After 21 Seasons
The daytime television landscape continues to see significant changes as Dr. Phil is the latest show set to come to an end.
After 21 seasons, the talk show hosted by Dr. Phil McGraw will end its run of original episodes with the current 2022-2023 season, according to Deadline. The decision comes as McGraw's contract with CBS Media Ventures, which he signed in 2018, is coming to an end.
Dr. Phil premiered in September 2002 and became an instant hit, only second in ratings behind Oprah at the time. After Oprah Winfrey left daytime in 2011, McGraw's show became the most-watched daytime syndicated talk show, a title it held for almost a decade.
"I have been blessed with over 25 wonderful years in daytime television," McGraw said (via Deadline). "With this show, we have helped thousands of guests and millions of viewers through everything from addiction and marriage to mental wellness and raising children. This has been an incredible chapter of my life and career, but while I'm moving on from daytime, there is so much more I wish to do."
The news comes after a flurry of changes across daytime programming, with the likes of The Wendy Williams Show, Maury, The Ellen DeGeneres Show, and Dr. Oz all coming to an end over the past year.
According to Deadline, CBS Media Ventures will look to offer library episodes of Dr. Phil for the 2023-24 season and beyond and is hoping to achieve the same or similar price for these repeats. This was previously done with old episodes of Judge Judy after the court show ended in 2021.
"Phil is a valued partner and member of the CBS/King World family, and while his show may be ending after 21 years, I'm happy to say our relationship is not," said Steve LoCascio, president of CBS Media Ventures. "Phil changed the daytime landscape as the force behind one of the most popular talk shows ever on daytime TV. We plan to be in the Dr. Phil business with the library for years to come and welcome opportunities to work together in the future."
As for what's next for McGraw, he said, "I am compelled to engage with a broader audience because I have grave concerns for the American family, and I am determined to help restore a clarity of purpose as well as our core values."
Dr. Phil, Weekdays, Syndicated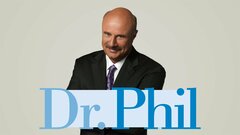 Powered by