'Criminal Minds: Evolution' Gives BAU Its Best Lead Yet on Sicarius (RECAP)
Forget Me Knots
Season 16 • Episode 8
[Warning: The below contains MAJOR spoilers for Criminal Minds: Evolution Season 16 Episode 8 "Forget Me Knots."]
Rossi (Joe Mantegna) is so close to Sicarius at the end of the latest Criminal Minds: Evolution, with only two episodes to go in the season.
The photo he has of Sicarius at the hardware store can't give them much; Garcia (Kirsten Vangsness) can't pull anything about his face, turned away from the camera and hidden by a hat. Meanwhile, Elias Voit (Zach Gilford) has his next victim, real estate agent Ramona (Kerry Knuppe), in another of his shipping containers. But his plans for her give the BAU a bit more time. As it turns out, Voit isn't interested in killing Ramona, at least not right away. Rather, if she wants to live, she has to help him save his marriage.
And so Voit uses Ramona to act out conversations he wants to have with his wife, namely, the one where he admits he's a sadistic serial killer. He thinks he can change if he has her and their daughters, he says, and Ramona, pretending to be his wife, asks if he'd hurt her babies. He doesn't know, he admits, but he doesn't want to. And then Voit sees his wife in her place telling him she'd stay but he has to earn her trust. He has Ramona call her husband and tell him she's not in danger but just needed a break from their marriage. Would she give her life in exchange for her husband's, Voit asks. No. For her kids? Without a doubt.
But even with that call, the BAU knows that because Ramona fits the victimology and is from an area where a kill kit is missing, she's likely being held by Sicarius. The agents also look into Cyrus' death: Local police traced Maria to the cabin and discover he took custody of his nephew, Lee DuVall, after the child's parents were killed in an apartment fire on Second Street. Furthermore, Lee is the alias Sicarius used with Alison Green. With no record of Lee after he turned 18, they wonder if he was one of Cyrus' victims. Or might he have set the fire that killed his parents? It would explain why Cyrus bonded with him.
Speaking of that kill kit, Voit messages a man that it's "time to get back to work" and he has a gift for him. And so after telling Ramona that he's drugging her but she'll wake up at home, Voit leaves her for that man to find. "She's absolutely perfect," he messages Voit, who tells him to "enjoy." (This network of killers continues to give us chills.)
The agents are able to identify that man by the method of the kill kits missing (acid and strangulation) and the messages from the dark web where Sicarius held auditions: the user ForgetMeKnots, identified as Arthur, who has ties to the area and tried to hang his grandmother years ago. He's now out on parole. But when Arthur hears over a police radio that they're looking for Ramona, Voit tells him to get rid of her and get out of town. Arthur ties her up, with a noose around her neck, and tells her if she tries to pull her arms and remove it, it will choke her, but her legs will give out and she'll hang herself. He hates having to miss it (the chills!) but he tries to make a run for it. Fortunately, the authorities are on scene and not only catch up to him (but he forces them to shoot him by raising his gun) but also find Ramona in time.
In the hospital recovering, however, Ramona claims she didn't see Sicarius' face after remembering him telling her that her husband and kids would get hurt, by him or someone else. Tara (Aisha Tyler) can tell why, but without Ramona's cooperation, Prentiss (Paget Brewster) can't go to the AG to get the Sicarius investigation reopened. Their next move is to head to the site of the last missing kill kit (and we are dreading what acid is going to bring).
This investigation leads Rossi to realize something about the video footage they have of Sicarius. After Ramona's husband ignores a call from her mom, Rossi knows that Sicarius was ignoring a call twice when he reached for something, likely from his wife at that hour. He has Garcia begin to look into cell records for the tower closest to the hardware store and compile two lists: one of missed calls and one of missed calls from the Pacific Northwest. Rossi's plan is to go old school with that list and start knocking on doors to get a lead on someone who knows Sicarius.
Just as he's doing this, Voit calls his wife, who's been worried he's dead. Who is he, she asks. "Honestly, I don't even know anymore," he admits, "and I do know I have a lot I need to tell you and I know I can't keep secrets from you anymore. So can I come home please?" After she agrees, someone rings her doorbell … and standing there is Rossi, with a few questions!
Elsewhere, JJ (AJ Cook, who directed the episode) and Will (Josh Stewart) realize just how much their oldest son, Henry, overhears when they talk when he asks about his father's health. They assure him that Will's OK. Oh, and Henry's sleeping with Will's bat for protection from Sicarius. He's heard a lot, including about the explosion that JJ was caught in, and since he knows Sicarius has it out for the FBI (as he read online), he wants to know how they know they're safe.
Uh-oh. We're worried, too, Henry.
Criminal Minds: Evolution, Thursdays, Paramount+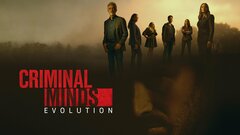 Powered by