'Criminal Minds: Evolution': Will [Spoiler] Be Voit's Next Victim? (RECAP)
Memento Mori
Season 16 • Episode 9
[Warning: The below contains MAJOR spoilers for Criminal Minds: Evolution Season 16 Episode 9 "Memento Mori."]
If you thought the cliffhanger of the midseason finale of Criminal Minds: Evolution was cruel, then the one for the penultimate episode is the equivalent of the UnSub who gave his victims the choice between paralysis and death.
Picking up where "Forget Me Knots" left off, Rossi (Joe Mantegna) shows Elias Voit's (Zach Gilford) wife, Sydney (Kiele Sanchez), the hardware store photo. Voit then calls her, having gotten an alert on his phone that someone's at their house, and she asks about the photo. When he hears Rossi's name, he remembers reading his book, Deviance (as seen in his flashbacks), and spins a tail about quitting his job because he discovered something that could get them in trouble. Sydney follows his instructions to get Rossi out, and the profiler leaves, but not before telling her he has questions for her husband.
And yes, at this point, Rossi knows Voit is Sicarius. The attorney general can only give them 48 hours, but they're on a short leash. But then Voit walks into the Seattle Field Office to talk to Rossi, and the conversation that ensues is the equivalent of a cat-and-mouse game. Voit confirms he's in the hardware store photo, but then brings up Rossi's books; he's read all of them and liked Obsession, about a guy who disarticulated bodies so he could dissolve them in acid. That was one method used by their killer, Rossi notes. Voit points out he has to be careful what he puts in his books, to avoid the risk of giving wanna-be killers rules for killing. He claims to just read true crime (not live it) and not to know Cyrus. And because he knows that Rossi "always goes the distance," that's why he came in and brought him all his devices. Unfortunately, there's nothing on there to truly incriminate him.
But maybe Sydney is the weak link, Rossi suggests. The only problem is that by the time he tracks her down to talk to her again, Voit has already filled her head with lies: A coworker found out his company was transferring the slush fund into cryptocurrency for bad people, and when he tried going to the FBI, he got in the car with an agent and was never seen again. So when Rossi tries to get Sydney to come down to the field office, telling her Voit is a serial killer, she runs from the grocery store and Voit posts a video of Rossi "stalking" them online.
The attorney general orders Prentiss (Paget Brewster) to take Rossi off the case (or she can follow him out the door), but he ignores her text and instead goes to Voit's. Elias, having sent his wife and kids ahead to a motel for their "safety," invites him in for wine — or to save the blonde suffocating. With just the possibility of a life in danger, Rossi goes inside, but Voit's the only one there, sitting calmly in the living room. Rossi proposes a deal: Voit lets Sydney and his daughters go, and Rossi will let him go. Voit refuses because he loves them. But Rossi tells him that while that love makes him unique among psychopaths, he will kill them. Voit just slightly reacts to a comment about intrusive thoughts (he has been having them). In the end, he attacks, they wrestle for the gun, and Voit knocks Rossi down.
The only good news right now: Tyler (Ryan-James Hatanaka), whose sister Voit killed, via phishing, tracked Rossi's phone and figures out the agent is with Elias as he drives off. There's a lot of bad news. The rest of the BAU figures this all out too late; by the time JJ (AJ Cook), Luke (Adam Rodriguez), Garcia (Kirsten Vangsness), and Will (Josh Stewart) arrive where Rossi was taken — the location of the first shipping container of victims — Tyler has tried to intervene and Voit shot him and took off with Rossi.
The BAU is right when they suspect that Voit will go to ground, literally. He brings Rossi down to some sort of cellar or container, and the agent knows that Voit's brought him where it all started after he doesn't react when he calls him by his birth name, Lee. For Voit, "this is where you and I end," he says, before leaving him there and joining his family in a motel.
And then the BAU receives a live stream link, with a message on the screen: "Further instructions will come. But here are the ground rules. Let me go, you get him back. If you don't?" They briefly see Rossi where he is, calling out for help, before the camera feed cuts off. Uh-oh.
Elsewhere in the penultimate episode of the season (don't worry: it's already been renewed!):
A January 2022 flashback shows Prentiss finding Rossi after he left his wife's funeral early. He couldn't watch them put her coffin in the ground, he admitted before breaking down crying.
A May 2022 flashback shows Tara (Aisha Tyler) and Rebecca (Nicole Pacent) meeting at the former's first Al-Anon meeting. Rebecca asked her to get coffee. And in the present day, Tara asks if they can get a cup of coffee so she can make amends, but Rebecca reveals she was offered a job in Sacramento and has to take it. Still, she later takes Tara's hand after Rossi goes missing, so maybe there's hope?
We finally find out what happened on Garcia and Luke's date in February 2020! Both were nervous, and things got awkward… until they agree that it's very "clunky." As she told him, "with us, there absolutely is something there, but not that" and they both had a "person" out there.
So is Garcia's person Tyler? Yes, she's mad that he lied about recognizing Voit when she showed him photos and he used a message from her to trick Rossi, but she finds Tyler bleeding right after that date flashback. He apologizes, but she insists he can make it up to her by staying alive. Last we hear about him, he's stable but lost a lot of blood.
Criminal Minds: Evolution, Season Finale, Thursday, February 9, Paramount+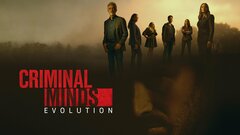 Powered by