'Night Court' Revival Is Big Ratings Hit on NBC Debut
NBC's Night Court revival is shaping up to be a hit, as the network's latest series garnered more than 7 million views during its premiere. The newly rebooted sitcom, co-starring Melissa Rauch, who also serves as executive producer, debuted on January 17 to 7.1 million viewers and a rare 1.0 demo rating. The following second episode then drew 6.8 million watchers and a 0.9 demo. Many speculate that Night Court may have provided some of the best ratings for NBC in quite some time.
Following the airing of Night Court, New Amsterdam's penultimate episode retained about half the viewership, with 3.4 million and a 0.4 demo, remaining constant with season highs. However, the show's series finale lowered to 2.8 million and 0.3.
For comparison, ABC's The Rookie raked in 4.6 million viewers and a 0.6 rating after steady improvements week to week during its Tuesday slot. Meanwhile, The Rookie: Feds brought in a 9 million/0.3 rating, and on FOX, the season finale of The Resident surged to a 2.9 million viewership and 0.3 rating.
Like the original, the new Night Court follows a judge who "presides over the night shift of a Manhattan arraignment court and tries to bring order to its crew of oddballs and cynics," as NBC explains. This time, however, that judge is Abby Stone (Rauch), daughter of Harry Stone, the magistrate from the original, played by Harry Anderson.
"When people hear the term 'reboot,' I think there's like an, 'Ah! What are you gonna do to my favorite show?!'" Rauch told TV Insider before the successful launch of the series.
Rauch created the series with her husband/producer, Winston Rauch, showrunner Dan Rubin, and Larroquette. Fans will see him and Rauch co-star in the "new-boot," as she's been calling it, alongside fellow cast members India de Beaufort as Olivia, Kapil Talwalkar as Neil, and Lacretta as Donna "Gurgs" Gurganous."
Night Court, Tuesdays, 8/7c, NBC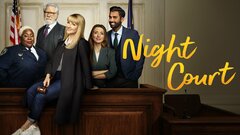 Powered by