'Night Court': Melissa Rauch Reveals Revival Theme Song's Connection to Original (VIDEO)
"When people hear the term 'reboot,' I think there's like an, 'Ah! What are you gonna do to my favorite show?!'" Melissa Rauch says of her upcoming Night Court reboot, premiering January 17 on NBC.
Don't worry, she's just as much a fan of the original comedy as anyone else. To keep the spirit of the OG Night Court alive, the series not only has the original star John Larroquette returning, but also the same beloved theme song — a revamped version created by Larroquette's son, Benjamin Larroquette.
"We knew that we wanted to use the same theme song, 'cause it's iconic. I feel like you can't don Night Court without that incredible song," she tells TV Insider in the video interview above.
The new jingle was created before the series was even green-lit. It ended up being the creative team's pump-up song after they pitched the show and were developing the all-important pilot script.
"Our minds were blown" by Benjamin's version, The Big Bang Theory alum tells us. "It was just so, so exciting to think that if we make this show, this is what we could use. I can't believe we're here, because it seemed like such a dream at the time if that could potentially happen."
Rauch created the series with her husband/producer, Winston Rauch, showrunner Dan Rubin, and Larroquette. Fans will see him and Rauch co-star in the "new-boot," as she's been calling it, and they can't wait for viewers to see how they've honored the original Night Court while still taking it in new directions.
Get more insider details about the Night Court reboot in the full video interview above.
Night Court, Series Premiere Tuesday, January 17 (back-to-back episodes), 8/7c, NBC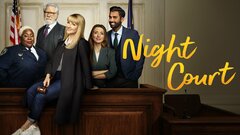 Powered by