Shonda Rhimes Addresses 'Scandal' Premiere Bump
It was no surprise during this morning's Television Critics Association panel for ABC's Scandal that the first question would be about yesterday's news that the show's season premiere was being delayed a week due to an inauguration special for Donald Trump. Asked about the delay, creator and executive producer Shonda Rhimes, via satellite, stated, "ABC does it's programming, I'm fine with whatever they want to do. It has nothing to do with my job. I like to stay in my lane."
RELATED: Donald Trumps Shonda: Inauguration Special Postpones TGIT Premiere
Asked about the correlation between the show's Washington landscape and its fictional presidential election results to the current real world, Rhimes doesn't see them as related. "I don't really equate the two. That's not really the goal, obviously. If that had been the goal we would've waited until after the election to write about an election, I guess," she said. "The goal was really just to tell the story that we had been telling and had been on the journey to tell the entire time and will continue to tell."
Bellamy Young, whose character, Mellie Grant, could end up as president in the season premiere, agreed with Rhimes. "What I can say is I, too, keep it pretty separate because our world is a complete fiction."
Asked about how the cast reacted to the results of the U.S. election in November, Washington shared how they dealt with it given the show was not filming at the time (due to Washington having had a baby in October). "It was interesting that we weren't working and that we weren't all together. For me, that was a little bit challenging. Over these years, these have become the people I'm closest to in many ways," the actress said. "It was strange to have to find each other in hiatus to kind of check in with each other and process it but we did because we are so close so we were able to do that."
RELATED: 2017 Winter TCA: TV's Biggest Stars Pose in Our Portrait Studio
Besides the questions about the real political climate, Rhimes and the cast also talked about the upcoming sixth season. "Shonda's taking the show in a whole fresh direction, which is very interesting and emotional and entertaining for Scandal, for these characters, for our world," said Tony Goldwyn, who plays the exiting President in the series. "The fact that it's in counterpoint to this crazy political world America is going through is interesting, but they're not the same and we're not in reaction to that."
Rhimes added there will be changes seen in the new season. "Actually, interestingly enough simply because of the way we laid out this season, we really do have this beautifully different way of telling the season this year where we're really stepping back in time, looking forward in time and you're seeing things from different characters' perspectives." She also said, "It's very different from any other season we've had, and so I can't really judge it against what we've done before or even think about it in terms of what's going on now."
On the shorter episode order for the new season, Rhimes admitted she was more elated than deterred. "I was delighted. It was a thing that I wanted and asked for and said I wanted to do in the middle of last season," she said. "It was a relief, and it was exciting to get to plan the season knowing the length was shorter." She added she felt the shorter order made for stronger storytelling.
Did Rhimes reveal anything about the upcoming 100th episode of Scandal? Not so much, but it wasn't just due to shyness about sharing details and spilling spoilers. "I have no idea yet because we're in the middle of talking about it, playing it, writing it now," she said. "It could change tomorrow, so I don't know."
RELATED: Scandal Elects a New President: Will It Be Mellie?
Since the cast has just returned to work last week, Washington shared she's still figuring out how to adjust back to a busy shooting schedule after having had a baby. "The nice thing is that I did it once before since this is my second child that I've birthed," the actress said. "It's been really interesting for me as an actor because I work very physically. How I approach a character often has a lot to do with the physicality of that character, so the challenge of my physicality changing dramatically two times now in the length of the show, and Olivia's body not changing, and figuring out how to hold onto her posture and her emotion and her physical orientation in the world while mine is different every day has been a real exercise for me….that's been really good for me, a good exercise for me as an actor."
Scandal returns January 26 at 9/8c on ABC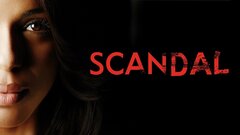 Scandal
where to stream
Powered by