'Scorpion': Robert Patrick Previews Cabe's Fight to Survive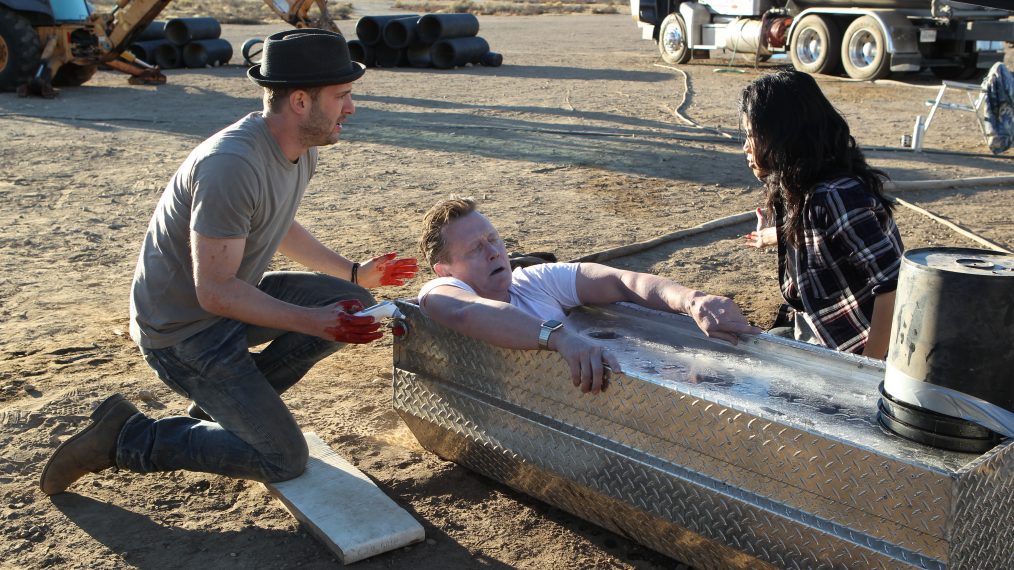 A routine job goes awry in the January 2 episode of CBS's Scorpion when Cabe (Robert Patrick, center, with Eddie Kaye Thomas and Jadyn Wong) is gravely injured—and Team Scorpion is in the middle of nowhere, with no easy way to help him.
"Cabe is aware that he is in deep, deep trouble but couldn't be in better hands," Patrick says. As the group takes the drastic step of freezing their friend in order to save him, the episode showcases "how much you have to appreciate the people in your life," Patrick says. "Don't wait for a dramatic event to display how much you love each other."
We spoke with Patrick about the big hour, and Cabe's struggle to survive—especially in light of his newfound romance with Allie (Reiko Aylesworth).
How does Cabe find himself in this life-or-death situation?
This is a really amazing episode. What starts out as a relatively easy job for the team—in the episode, Cabe is prepared to kick back and let them do their thing; he's going to take in some sun while they repair what they need to repair—and something goes haywire and accidentally I get injured gravely. We're in the middle of nowhere and I'm bleeding out. They have to figure out a way to save their federal agent. It poses all sorts of problems for them to get over. They have to deal with the reality that life is fragile and they may lose one of their team.
RELATED: Scorpion: Reiko Aylesworth Set to Romance Robert Patrick's Cabe
How is he reacting to the injury? Is he aware how bad it is from the start or does it dawn on him as the episode progresses?
He realizes he's hurt, there's not a lot of histrionics, it's just, "Uh-oh." And we sort of reveal what happened. And I'm out. The team quickly assesses the situation and they go to work real quick on what do we do? Cabe is aware that he is in deep, deep trouble but couldn't be in better hands.
It's interesting, because [executive producers] Nick Santora and Nick Wootton, they really dealt with it in a cool way. Cabe is still Cabe, reassuring the team that they can do what they need to do. He feels comfortable with them; with the idea they've come up with to try and save him. He has to let them know, "You guys go ahead and do this, and if it doesn't work out, I don't want you to feel bad about it. I want you to know I was totally committed to what you guys have come up with, and I'm OK with it. Do what you can." All the way through the episode, that's most of my dialogue. The team is talking to me the whole way through it—"Cabe, this is what we're going to do, this is what we've got to do. It's going to hurt really bad."—and Cabe's dialogue all the way through is "Do what you have to do. I trust you." It's neat the way we did it.
RELATED: Scorpion Stars, Producers on the Very Personal Season 3
Cabe has gone through a good amount of loss in his life, but things are actually looking up for him aside from this: he's at a good place with the team and he has a new relationship with Allie. What is his mindset as he realizes this could be it?
Cabe has been dealing with his loss for a long time, and obviously the vacuum created by the loss of his daughter was his divorce. Walter filled that void. He is very content with the way things are going with the team. And then he met this gal, Allie, that he has this budding romance with. He's feeling pretty good. Cabe's feeling like, this is neat, she really likes me. He has a little more of a spring in his step. Which I think plays into the start of the episode where Cabe is sort of relaxed and kicked back and is letting the team do their thing; I'm taking in some sunshine and dressing a little bit differently.
He does have a new outlook and attitude because of Allie. She's made him feel young again. For all of that to be going, so typical of life, everything seems to be going great, and lo and behold, the bottom is going to fall out; you're going to have to deal with this serious injury. And really, the episode is about the fragility of life. How fragile it really is.
RELATED: Scorpion: Cabe Finds His Romantic Match
I don't want to get too maudlin about the whole thing, but like Alan Thicke, he's out there playing hockey with his son. He's such a terrific guy. I had just seen him at the celebrity softball game we played at Dodger Stadium, so full of life. He was playing hockey with his son and lo and behold, it's a tragedy. That is what's represented by this episode. It makes the team realize we're all vulnerable. It's different immediacy for the team.
Every episode, we sometimes put one of the team in harm's way, but I think this was a little more different, purposefully, for the immediate situation. From my point of view, they have to make a makeshift tub. It's freezing [Cabe], to stop my heart from bleeding and me bleeding out until they can perform surgery…I'm just laying there. Each one of the characters comes up to me and lets me know how important I am to them. It's really weird. It's like being in a hospital bed and having people visit you all the time. It's really poignant.
What was your physical transformation like for this episode as Cabe was declining?
Well, it's not a very flattering angle, I'll tell you that. [Laughs] Laying on your back and them pushing your head up. I saw the images and was like, "I've looked better!" But I guess when you're dying of shrapnel, vanity goes out the window. They did a marvelous job, my makeup team, determining how ashen and blue and cold and oxygen-starved I would be. Taking into account, we were supposed to be in a desert when it was supposed to be incredibly hot. The conditions were not that; it was much colder than we were playing it where we were actually filming it. I had the minor discomfort of being cold and wet; doing take after take.
The team of effects guys did an amazing job of keeping the water as warm as possible. Scorpion, the show itself, is very much like the team. The show itself, the cast and crew, it works as if it really is a family. So everybody works hard to make each other's jobs easier. There was a lot of consideration for any discomfort I was going through. That's just a tip of the hat to my amazing cast and crew.
RELATED: Go Behind the Scenes of Scorpion's Opening Episodes
Is there anything else that has you excited about the episode?
It's a real thought-provoking thing. I think the fans will be able to look at it through our eyes: how much you have to appreciate the people in your life. Don't wait for a dramatic event to display how much you love each other. I think that's the realization that Walter gets. Remember, he's emotionally messed up; his EQ is not very suitable for this kind of event. Elyes Gabel did such a great job of trying to communicate how much [Walter] really does care about Cabe, and vice versa. I think that's the thing people are going to walk away from the show; that might have been what the goal was at the end of the episode. That's the great thing about Scorpion: we can do comedy, drama, action and at the core of our show, the great common denominator is the heart that is in the show each week.
Scorpion, Mondays, 10/9c, CBS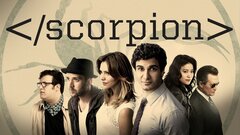 Powered by